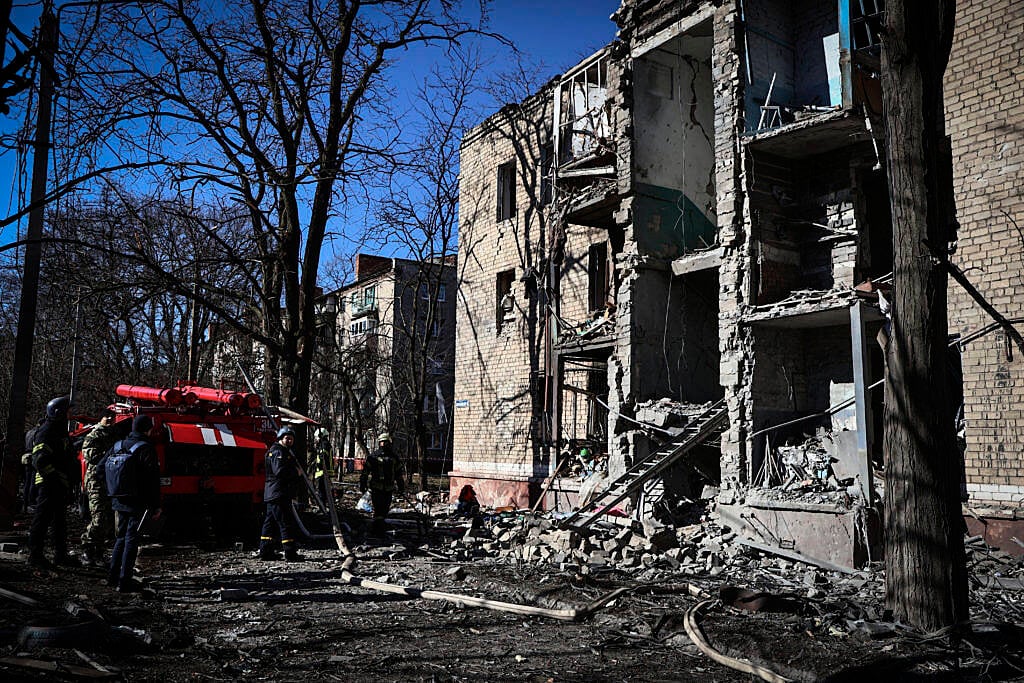 A Russian missile hit an apartment building in central Kramatorsk, killing at least one person and injuring three others in one of Ukraine's main urban strongholds, in its eastern Donetsk region.
President of Ukraine Volodymyr Zelensky announced that six residential buildings were damaged by the explosion and rescue operations are ongoing.
He posted a video showing holes in the facade of a low-rise building that bore the brunt of the strike.
The General Prosecutor's Office of Ukraine and the regional governor Pavlo Kirilenko also reported on the attack, publishing photos of the building showing the ruins in front of the building.
The war, which erupted after Russia launched its full-scale invasion in February 2022, has resulted in heavy civilian casualties. Ukrainian authorities said Tuesday's casualties were among at least six civilians killed and 30 wounded in a 24-hour period.
"Russian troops are striking residential buildings, schools and hospitals, leaving cities in flames and ruins," Kirilenko said on Ukrainian television. "The Russians mark every meter of their advance in the region not only with their blood, but also with the lives of civilians."
The local headquarters of the Ukrainian army is located in Kramatorsk. Ukrainian authorities say it has been a regular target of Russian shelling and other attacks in the past.
A rocket attack on the city's train station in April last year, which Kiev and much of the international community blamed on Moscow, killed dozens of people and injured more than 100.
Russia had welcomed China's peace offer to end the fighting, but Kremlin spokesman Dmitry Peskov said Kiev's refusal to negotiate left Moscow with only military options.
Beijing has said it has "boundless friendship" with Russia and has refused to criticize Moscow's invasion or even call it an invasion.
"We must achieve our goals," Peskov told reporters. "Given the current position of the Kiev regime, this is now possible only through military means."
Latest Defense Intelligence Update on the situation in Ukraine – March 14, 2023

Learn more about Defense Intelligence's use of language: https://t.co/Z5SI6SOzPY

🇺🇦 #StandWithUkraine 🇺🇦 pic.twitter.com/1vOoyWCYYD

— Ministry of Defense 🇬🇧 (@DefenceHQ) March 14, 2023
However, Moscow's pursuit of its goals in Ukraine has been slowed by mismanagement of the war and a lack of resources, after being overwhelmed by a Ukrainian counteroffensive late last year, military analysts said.
On Tuesday, Britain's Ministry of Defense announced that Russia's artillery ammunition shortage "is likely to have worsened to the point where there is a rationing of extreme punitive shells in many parts of the front".
That shortcoming "has almost certainly been a key reason why no Russian formation has been able to conduct operationally significant offensive operations recently," the Defense Ministry said.