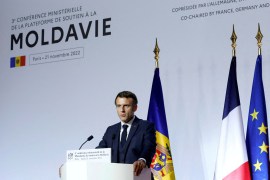 On May 31, 2023, French President Emmanuel Macron spoke at GLOBSEC, a security conference organized by the think tank in Bratislava, Slovakia, where he formalized his long-awaited opening to Eastern Europe. Macron was once an advocate of rapprochement between Europe and Russia, much to the chagrin of Central and Eastern Europeans for whom NATO's Article 5 security guarantee exists. The speech at GLOBSEC conveys a sense of unity, defends the future of the European Union and the commonality of European security goals, and atones for his and his predecessors' neglect of Eastern Europe. In 2003, French President Jacques Chirac shocked his eastern counterparts by declaring that they had "lost the opportunity to keep their mouths shut" in reference to their support for the US intervention in Iraq. Macron now says that Western Europe missed an opportunity when it did not listen to the concerns voiced by Eastern Europeans. And in this symbolic gesture, he also seeks to bridge divisions within the EU on the way to future integration.
German Chancellor Olaf Scholz, in his speech in Prague in August 2022, ambiguously accepted the transfer of Europe's center of gravity to the East. "The center of Europe is moving to the east." If Paris did not openly claim that, then, in fact, a shift was taking place. Ukraine and Moldova were granted candidate status for EU membership by the European Council in June 2022, with the Czechs hosting the first meeting of the European Political Community (EPC) in Prague in October 2022.
The EPC was announced by Macron in a speech on May 9, 2022, as a way to simultaneously move forward in the direction of widening and deepening the Union. The French are known to be very reluctant supporters of EU enlargement, favoring deepening and reforming the Union before opening it up to others. This was until recently a major point of contention between France and Germany, as well as between the French and Eastern Europeans. The EPC is meant to be a platform to address a wide spectrum of security issues, from traditional security to critical infrastructure and energy connectivity. Many Eastern Europeans initially interpreted this proposal as a French maneuver to prevent EU enlargement and (even worse) to bypass NATO.
However, 44 countries attended the October 2022 meeting in Prague, no doubt motivated to overcome their anxiety and differences with their shared distaste for Russian President Vladimir Putin's large-scale aggression in Ukraine. The countries have agreed to meet every six months, with the host rotating between non-EU and EU member states. Moldova hosted the second summit on June 1, 2023. Forty-nine European leaders met in Bulboaca, Moldova for this second edition of the EPC, and Ukrainian President Volodymyr Zelensky also joined; . As Moldova is highly vulnerable to Russian political destabilization and potential aggression, the display of strategic solidarity demonstrated in Bulboaca was crucial to its security. It also contributes to the common strategic culture that Macron wants Europeans to share.
Macron's speech in Bratislava last week had several goals. First, it was meant as a tacit atonement for his previous campaigns against Russia. He invited Putin to France in 2019 in an attempt to restart dialogue on European security architecture without prior notice from those Europeans, and since the start of the war in Ukraine he has indicated that Russia also needs security guarantees and that it: should not be humiliated. Second, the speech aimed to recognize how investments from Central and Eastern European countries have helped the EU become a stronger geopolitical actor. Macron said that their voice "must be the voice of all of us". He also addressed Chirac's infamous comments with a sentence that appeared in Europe: "Back then, some people told you that you miss opportunities to be silent, but I think we sometimes missed opportunities to listen."
Finally, the president wanted to reassure his listeners that France does not seek to build a European Union that excludes new Eastern European contenders or pushes aside the transatlantic alliance; "The European political community is neither a competitor to NATO nor a replacement for enlargement, but it is a framework for strategic discussion that all countries need to build, hopefully, an innovative and new institutional architecture." Referring to his now-infamous 2019 comment that NATO was experiencing "brain death," he added that Putin "has woken up. [NATO] with the worst electric shock." Underscoring the crucial role of the US in European security, he added that Europe must build better capabilities as soon as it becomes a better partner for the United States. "Strategic autonomy" (a red flag term in the north and east of Europe) was mentioned only twice, as a synonym for "military sovereignty" within NATO and as a building block for a much-needed European defense industry. basis.
The speech also touched upon the crucial issues in terms of the interconnectedness of the destinies of the EU and Ukraine. how to prepare for a post-war settlement that does not endanger Ukraine or Europe's security by encouraging Russian imperialism.
Macron being Macron, he does not shy away from ambitious goals. He wants Europe to be at the arms control table. He also confirmed that the air defense conference he had announced at the Munich Security Conference in February 2023 would take place on June 19, 2023 in Paris, and he invited all EPC participating countries to attend. It is to be hoped that the Macron method in foreign policy is taking a more inclusive turn and that Macron's opening to Eastern Europe is now on track.