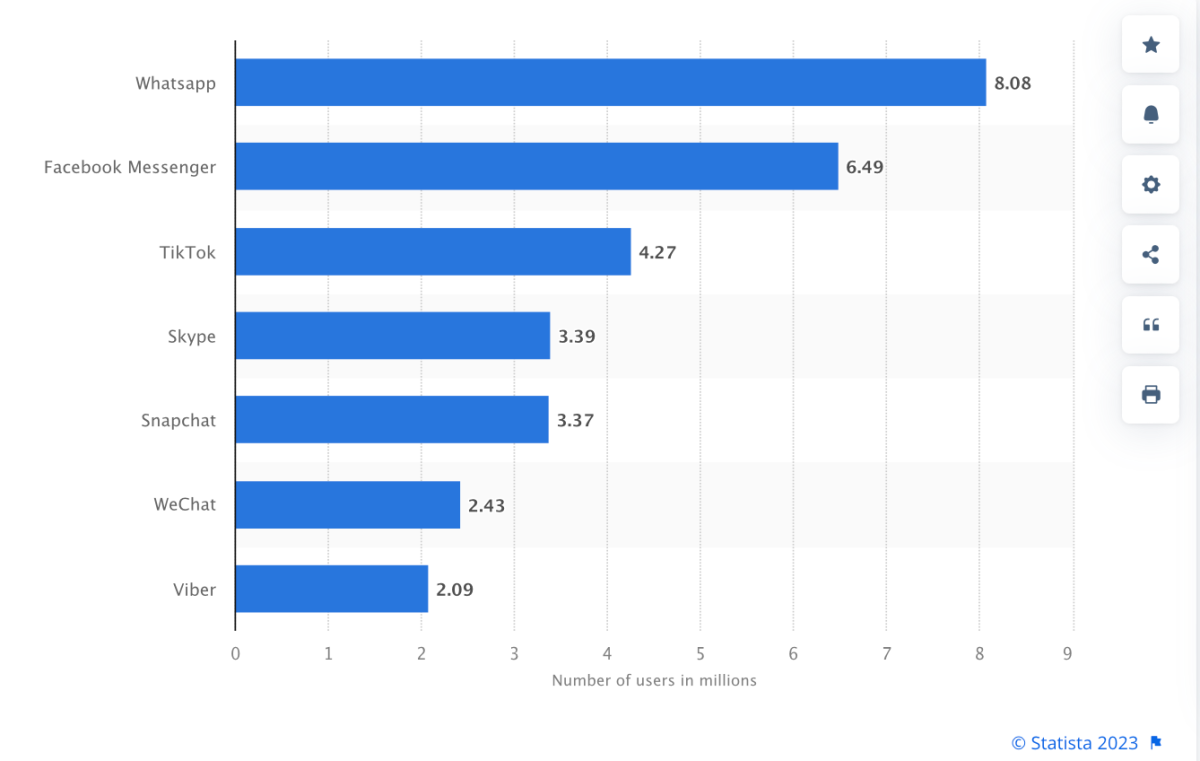 Source: Statista
WhatsApp is the number one messenger app in the UAE with 8.08 million users in 2022 (see image above). As customers prefer to use WhatsApp as a communication channel, it becomes imperative for businesses in the UAE to reach out to them through this platform.
In this article, we explain how and where WhatsApp chatbot can be used by businesses and provide 4 vendors that help businesses get WhatsApp chatbot in the UAE.
What is a WhatsApp chatbot?
WhatsApp chatbot is a software program designed to communicate with people in their natural languages. These chatbots are powered by artificial intelligence and can mimic human conversations and respond to queries accordingly.
What are the use cases for WhatsApp chatbots?
Customer support
Businesses can use WhatsApp chatbots in a variety of customer support activities, such as:
This can help reduce the workload of human customer support agents and increase customer satisfaction by providing faster responses. Also, support teams can work on more complex service requests.
E-commerce
Retail businesses can use chatbots to provide personalized product recommendations based on a customer's previous purchases or browsing history. They can also facilitate transactions directly within WhatsApp, making the shopping process smoother and more convenient.
Banking and Finance
Financial institutions can use WhatsApp chatbots to provide customers with account balance information, transaction history, and other financial details. They can also use chatbots to guide customers through complex financial processes.
Healthcare
Healthcare providers can use chatbots to provide health and wellness information, answer common health questions, and help patients schedule appointments.
Travel and hospitality
Airlines, hotels, and travel agencies can use WhatsApp chatbots to provide customers with booking information, check-in instructions, flight updates, and more.
For more information, you can check out our travel chatbots and hospitality chatbots articles.
Education:
Educational institutions can use chatbots to provide students with information about courses, admissions processes, and campus events.
Marketing and advertising
Businesses can use WhatsApp chatbots to send promotional messages, offers and discounts to customers. They can also use chatbots to collect customer data that can be used to create more personalized marketing campaigns.
You can check out our marketing chatbots and sales chatbots articles for more information.
Restaurants and food delivery
WhatsApp chatbots can be used in restaurants to take orders, provide delivery updates, and handle customer queries and complaints.
Real estate
Real estate businesses can use WhatsApp chatbots to provide property information, schedule views, answer common questions, and connect potential clients with agents.
Insurance:
Insurance companies use chatbots to explain complex insurance products, offer quotes, process claims, and answer policy-related inquiries.
State services
WhatsApp chatbots are being used by governments as part of the digital transformation of government around the world to facilitate;
Communication with citizens
Distribute public information
Allow citizens flexible access to government services
A WhatsApp chatbot for government services can effectively provide real-time updates during emergencies, guide citizens through complex administrative processes, and facilitate citizen response and engagement, which can contribute to government development.
In fact, at the end of May 2023, the UAE introduced an AI-powered chatbot for government services on the official portal.1: The government chatbot, integrated into the UAE government's digital system, offers citizens information and support service in one place in Arabic and English. It includes service requirements and direct links to government applications.
What are the benefits of Whatsapp chatbots for business?
WhatsApp chatbots offer several advantages for businesses. Here are some of them.
Advanced customer service. Chatbots can provide instant responses to common customer inquiries, reducing wait times and improving overall customer satisfaction. They can also operate 24/7, providing constant customer support.
Increase in efficiency. By automating mundane tasks, chatbots can free up human resources to solve more complex problems. This improves overall business efficiency and can lead to cost savings.
Scale. One chatbot can have multiple conversations at the same time. This means that a business can scale up its customer service operations without a corresponding increase in human resources.
Customer engagement. WhatsApp chatbots can be programmed to send personalized messages and offer customized product recommendations. This can help increase customer engagement and loyalty.
Lead generation and transformation. WhatsApp chatbots can play a key role in the sales funnel. They can qualify leads through initial interactions, follow up with leads, and even close sales deals.
Feedback and data collection. Companies can use chatbots to gather customer feedback and gain valuable insights. Collected data can be used to improve products and services and make more informed business decisions.
Availability: WhatsApp has more than 2 billion users worldwide, so using a WhatsApp chatbot opens up a large potential audience for businesses. In some markets, such as India, Brazil and many other countries, WhatsApp is the leading messaging app, making it a particularly effective channel for customer interaction.
Top 4 WhatsApp Chatbot Sellers in UAE
Below we have collected the top 4 companies that provide WhatsApp chatbot for business in UAE market.
1- Tactile
Haptik is a conversational commerce company that can:
Create WhatsApp chatbots that can facilitate customer communication, drive sales and collect information about potential customers
Send custom notifications that may include:

Recommendations for products
Transaction details
Shipping information
Haptik offers chatbot service to companies in various industries such as e-commerce, finance, travel and hospitality, insurance and more. So they have massive training data to create marketing solutions for different industries.
It can help businesses quickly access the WhatsApp API and develop a ChatGPT-powered WhatsApp API chatbot that can understand user intent.
2- Herbie A.I
Herbie AI, a product of SunSmart Global, is a conversational AI platform designed to be a multicultural, multilingual and versatile digital assistant. Equipped with machine learning technology, Herbie can process unstructured data to provide insights to facilitate better decision making.
The Herbie AI chatbot platform designs business chatbots for companies in multiple industries for multiple channels. They provide language understanding in 65+ voice mode and 135 text mode in WhatsApp.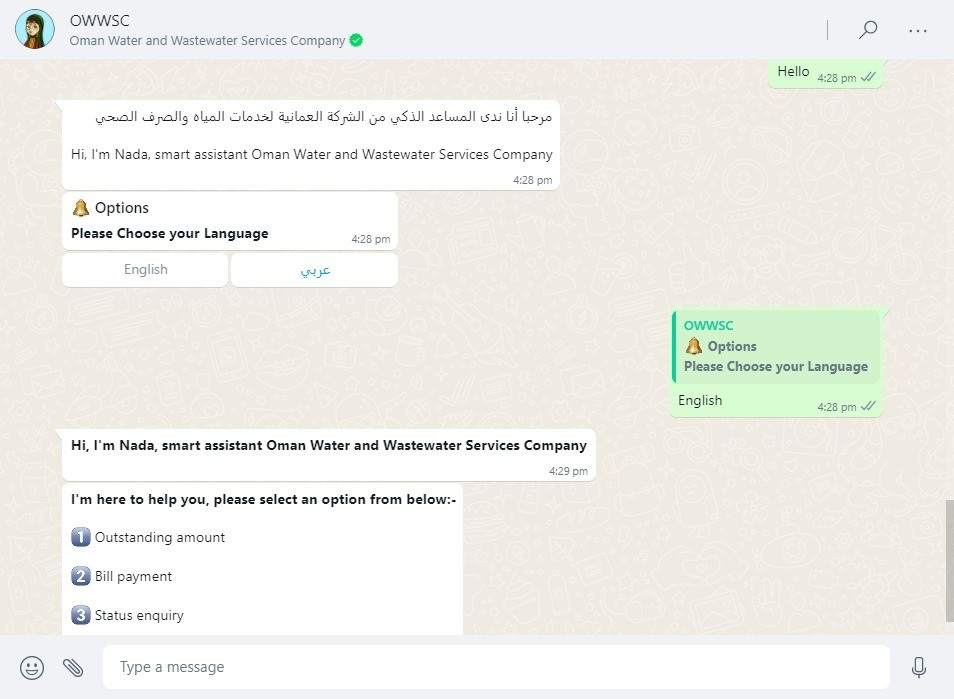 Source: Herbie AI
3- Best Capital Media (BCM)
BCM is another company that provides technology solutions to UAE businesses. They develop chatbots for websites and social media channels including WhatsApp.
BCM provides services to companies like Nestle, Nissan, Lays, Acer etc.
4- DAY
ORAI is a conversational AI platform that provides chatbot solutions to companies in various industries. They offer integration not only with WhatsApp and other social media channels, but also with CRM, SAP and customer service software such as Zendesk, Freshdesk and more.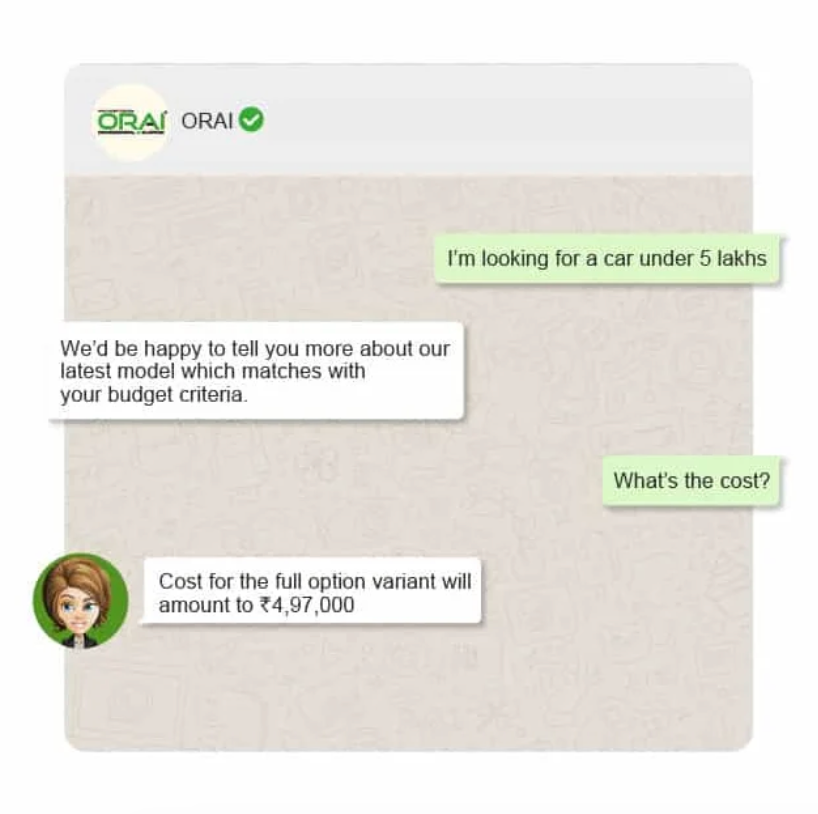 Source: ORAI
If you have questions, we can help.
Find the right vendors
Homepage – The official portal of the UAE government, https://u.ae/en#/. Accessed June 6, 2023.