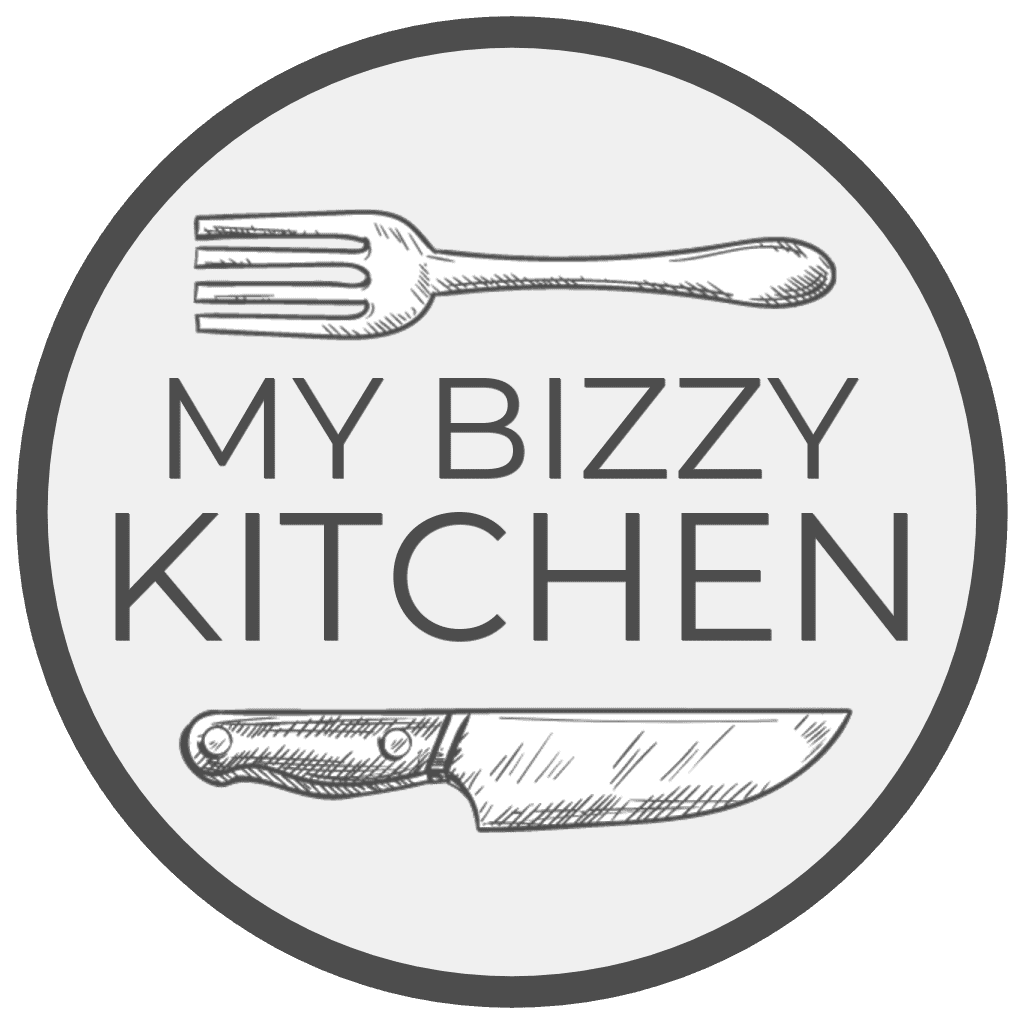 Lets get Bizzy in the Kitchen!
Enjoy week ELEVEN of meal plans with us!
In this week's meal plan we have overnight quinoa oats, morning glory muffins, summer pasta salad among some other favorites. Feel free to use one or use all for meal planning next week – the choice is yours!
To access the previous ten weeks meal plans, click here.
Ingredients
2 cups dry quinoa
3 cups water
1/2 cup quick oats
1 cup unsweetened almond milk (or milk of choice)
1/2 teaspoon cinnamon
1 cup grapes
1/2 teaspoon honey
pinch of salt
2 tablespoons powdered peanut butter (I used sugar free PB fit)
2 tablespoons granola of choice
Instructions
In an instant pot, add the quinoa and water. This is more than you will need for this recipe, but cook once, eat twice! Set on high pressure manual for 2 minutes. Once it reaches pressure and beeps, set a timer for 10 minutes. Remove the inner pot to cool completely.
To make two servings: mix 3/4 cup cooked quinoa with 1/2 dry oats and almond milk. Stir and let sit overnight.
While the quinoa is cooking, roast the grapes: put the grapes on a cookie sheet and spray with avocado oil spray. Bake at 400 for 10 minutes. Toss with the honey and salt and let cool.
Make the powdered peanut butter: mix two tablespoons of the powdered peanut butter with 2 1/2 tablespoons water (thin enough to drizzle) and set aside.
To plate: take half of the overnight mixture (if it's too thick add a bit more almond milk) to a bowl. Add half of the grapes, drizzle the peanut butter and toss a tablespoon of granola over the top.
Ingredients
1 apple
2 carrots
1 zucchini
4 radishes
1 tablespoon fresh ginger
2 eggs
1/2 cup unsweetened almond milk
1/2 cup nonfat greek yogurt
1/3 cup brown sugar
1.5 cups oat flour (just 1.5 cups quick oats processed to flour consistency)
2 cups self-rising flour
1 tablespoon baking powder
1/2 teaspoon salt
1/2 cup salted sunflower seeds
2 tablespoons coarse sugar
Instructions
In a food processor, process the apple, carrots, zucchini and ginger, until chopped finely.  Add the eggs, almond milk and greek yogurt – that is your wet mixture.
In a large bowl, add the oat flour, flour, baking powder, brown sugar and salt.  Add the wet mixture into the dry mixture and mix just until combined.
I used a melon baller, so two scoops of the melon baller per muffin.  Divide the sunflower seeds and sugar over each muffin and bake at 425 for 13 minutes.
Nutrition Information:
Yield: 22
Serving Size: 1 muffin
Amount Per Serving:
Calories: 113Total Fat: 3gCarbohydrates: 18gSugar: 3gProtein: 3g
Note – for the morning glory muffins, the recipe above made 22 mini muffins.  Last week I made a batch and they made 14 regular sized muffins.  The regular sized muffins were 4 points each.
Ingredients
For the salad:
1 pound cooked pasta, drained and cooled
1 cup asparagus, chopped
½ cup diced red pepper
2 ears of corn
1 cup zucchini
1 cup cucumber, diced
2 radishes, diced
1 cup mini mozzarella balls, sliced in half
2 ounces hard salami, sliced
For the dressing:
¼ cup nonfat Greek yogurt
¼ cup mayonnaise
1 tablespoon chopped giardiniera
2 tablespoons vinegar
1 tablespoon honey
½ teaspoon salt
½ teaspoon pepper
Instructions
Heat a skillet over medium heat. Spray with avocado oil spray. Cook the corn, turning every couple minutes, until charred. Let cool. In the same skillet, add the asparagus, red pepper and zucchini and sauté for four minutes. Let cool.
Mix the dressing. Add the cooked pasta to a large bowl. Cut corn off cob and add that to the bowl. Add the cooled asparagus, red pepper and zucchini mixture. Add the cucumber, radish, mozzarella and Galileo® Salame. Add dressing and mix well. T
Notes
This is 6 points per serving. Click here to track to your WW tracker. Grilled chicken or salmon would be a great accompaniment to this summer salad.
Nutrition Information:
Yield: 10
Serving Size: 1
Amount Per Serving:
Calories: 202Total Fat: 9gSaturated Fat: 3gTrans Fat: 0gUnsaturated Fat: 6gCholesterol: 17mgSodium: 316mgCarbohydrates: 22gFiber: 2gSugar: 5gProtein: 8g
Ingredients
4 ounces Jennie-O Italian turkey sausage
1 28 ounce can crushed tomatoes
1 cup chicken broth
2 teaspoons minced garlic
1 tablespoon Italian sesoning
1 tablespoon tomato psta
2 cups cooked pasta
1/2 teaspoon crushed red pepper
1/8 teaspoon salt
1/2 teaspoon black pepper
1 large zucchini, diced
2 cups baby spinach, chopped
2 ounces light mozzarella
Instructions
Cook pasta according to package directions.  Alternatively, this is a great way to use up leftover pasta!
Take the sausage out of the casing and make into 8 small meatballs.  In a non-stick skillet, saute the meatballs and zucchini for about 5 minutes, until the meatballs start to brown.  
In a stock pot add the tomato paste, tomato sauce, garlic, chicken broth, Italian seasoning, crushed red pepper and black pepper.  *the chicken broth might be enough salt, so taste before adding any additional salt.
Add in the meatballs and zucchini, and cook over medium heat for about 5-6 minutes.  In two large bowls, put one cup of chopped zucchini in the bottom of the bowl.  
Add 1/2 cup of cooked pasta into each bowl.  Ladle in the soup dividing the meatballs between the bowls.  Top each bowl with one ounce of the light mozzarella cheese and dried parsley.
Ingredients
1 tablespoon light butter
1 tablespoon flour
1 cup unsweetened almond milk
pinch of crushed red pepper, salt, pepper
1 teaspoon Italian seasoning
zest of half a lemon
1/3 cup shredded Parmesan cheese
Instructions
Melt the butter – add the flour and stir for one minute. Slowly add the almond milk, stirring constantly until it thickens – about 5 minutes. Remove from heat and add in the the rest of the ingredients and stir until the cheese melts. I pan fried 3 ounces of diced chicken, and in the last two minutes of the pasta cooking, I tossed in asparagus. 
Nutrition Information:
Yield: 2
Serving Size: 1
Amount Per Serving:
Calories: 145Total Fat: 11gSaturated Fat: 6gTrans Fat: 0gUnsaturated Fat: 4gCholesterol: 25mgSodium: 562mgCarbohydrates: 7gFiber: 2gSugar: 1gProtein: 6g
Ingredients
1 pound sirloin beef
2 cups broccoli, cut into florets and sliced in half
1/4 teaspoon salt
1/4 teaspoon pepper
1/3 cup soy sauce
2 tablespoons coconut cream
2 tablespoons arrowroot (you can use corn starch too)
2 tablespoons minced garlic
1 teaspoon crushed red pepper
1 tablespoon oil
1 teaspoon minced ginger
1 tablespoon Truvia brown sugar (or regular brown sugar)
2 tablespoons fresh chopped parsley
2 cups cooked rice
Instructions
Heat a non-stick skillet over medium heat.  Add half the tablespoon of oil, and cook the sliced broccoli, face down, for about 3 minutes.  Remove from pan and set aside.
Sprinkle the salt and pepper on the beef.  Add the remaining oil to the pan, and sear the beef for 2 minutes. 
Mix the soy sauce, coconut cream, arrow root, garlic, crushed red pepper, ginger and brown sugar together.
Once the beef has cooked for 2 minutes, add back in the broccoli, add the soy sauce mixture and cook one minute, or until the sauce gets thickened.
Serve over cooked rice and garnish with parsley.
Ingredients
12 ounces boneless skinless chicken breast, cubed
3 teaspoon avocado oil
1 Tablespoon Italian seasoning
1 teaspoon black pepper
1/2 teaspoon salt
1/2 teaspoon crushed red pepper (I added a full teaspoon!)
16 ounces skinny pizza dough
2 ounces part skim mozzarella cheese
1 cup baby spinach
2 tablespoons chopped parsley
4 tablespoons bacon bits
8 teaspoons light caesar dressing
1 egg yolk mixed with 1 teaspoon water for egg wash
4 teaspoons shredded Parmesan cheese
Instructions
Mix the chicken, oil, Italian seasoning, pepper, salt and crushed red pepper. Cook over medium heat, until almost fully cooked. Set aside and cool.
Heat oven to 400.
Roll out 4 ounces of dough for each chicken bake.
Make the bake in this order for each bake: 1/2 ounce mozzarella cheese, 3 ounces of the cooked chicken, 1/4 cup spinach, 1/2 tablespoon parsley, 1 tablespoon bacon bits and 2 teaspoons of the caeser dressing.
Roll up like a burrito. Brush with egg wash and sprinkle one teaspoon of Parmesan cheese on top. Bake for 17 minutes. Let cool a couple minutes, then slice.
Enjoy!