Welcome back Traveler of the Month! Long time blog readers may remember my Traveler of the Month series, where each month I would feature a different travel blogger to share their travel stories, wisdom and tips. I started this series in April 2020 as a way to inspire a little wanderlust while the world was shut down, and stopped it at the end of 2021, citing that I could get back to sharing my travel tales instead.
But you know what? I miss the series! I enjoyed getting to know the travel bloggers, and I'd like to think the readers enjoyed meeting them too. Also, while I'm back traveling, I certainly don't travel as much as I did when I lived abroad in Prague. So I'm bringing back Traveler of the Month.
To kick off the series after a 15-month hiatus, I thought I'd put myself on the hot seat as a good way to re-introduce the series and myself. So your first 2023 Traveler of the Month is me.
Introduce yourself! What is your travel story?
Hello! I'm Rhianna and I'm the travel writer behind Teaspoon Adventure. I was born in Vancouver, grew up in Toronto and then moved back to Vancouver University in 2010 and now call it home. I was lucky enough to go on a few trips as a child – vacations in the Dominican Republic, family vacations to Disney and six weeks in the Philippines and Korea – but I didn't properly get the travel bug until my first solo trip to Europe. in 2012.
From there, I looked for ways to incorporate travel into my life as often as possible; study abroad in Amsterdam, intern in Eswatini, work in Tokyo, and even win a trip to Australia. After graduation, I continued to travel the world solo with friends, family, and eventually my partner Colin.
Our biggest travel adventure was packing up our dog and our lives in Vancouver to move to Prague for almost a year (covid cut things short) to explore Europe. Since then, we've been traveling the world whenever we can and planning our next big long-haul trip.
You can learn more about me and my travels here.
When did you start your travel blog and what kind of stories do you share?
I started my travel blog in 2012 from my university dorm room. I craved adventure and wanted to nurture my love of writing. I blogged on and off during my school days and then started taking it more seriously in 2018. I now publish a post (almost every Tuesday) where I share stories, tips and tricks from my recent travels.
I don't have a particular niche, but I think my posts are useful for people who want to plan intentional trips where they can see and do memorable things without breaking the bank, taking off work, or hiking all day.
What do you do when you're not traveling or writing about travel?
Outside of this blog, I'm a freelance content and copywriter, which means I work from home in my pajamas writing about great things for great clients. Although there are many challenges that come with freelancing, it is truly my dream job.
What advice do you have for new travelers? Aspiring travel bloggers.
My best advice to new travelers remember you can't see and do it all in one trip. I often notice that people who are new to travel try to cram in as much as possible. And I totally understand why. It can be overwhelming when you realize how many amazing things there are to see and do, knowing that you only have your annual two-week vacation to do them.
While slow travel is usually preferable, I know it's not a luxury for everyone. So even if you have to (or want to) take a quick trip, allow yourself to skip a few things and plan a few minutes of rest. It's impossible to see and do everything, so don't try.
My advice to aspiring travel bloggers would be: write for your audience. This doesn't mean you should submit to just keyword research and give up all your passion and creativity to serve the SEO gods. But that means you have to write with the reader in mind. After all, that's what SEO is all about.
Which direction will you return to again and again? Which way will you never go back?
While there are several cities I would love to return to, my favorite would probably have to be London. I have now re-visited London about ten times and enjoy it every time. I would also like to go back to Prague because in 2020 we were in such a hurry to leave because the world was closed.
I have no great interest in returning to Venice. I enjoyed my time quite well, but it seems like one of those places that maybe you only have to visit once.
If you could live abroad, where would you live?
I did a whole post covering the places I'd like to live abroad. But right now, on the cusp of our trip, New Zealand seems like a great option. I could definitely see us settling down in Wellington or Auckland for a few years. We have also talked about doing something similar in Australia. working for half the year and then spending the second half of the year in a camper van driving around the country.
How do you deal with travel burnout or bad days on the road?
I also wrote a post about this (I seem to have planned these questions): How to deal with a bad travel day? I think it comes down to the break. There are bad days, whether on the road or at home. It's totally okay to cancel the tour you signed up for, order pizza, and watch Netflix in bed.
Where would you recommend someone take their first trip outside of your home country?
For someone's first international trip, I would recommend going to a place that has some similarities to home, just to ease yourself into the journey. For someone like me (an English speaking Canadian), Amsterdam is a really good first trip destination. English is widely spoken, the city has a distinctly fairytale look and feel, and you can arrive on a direct flight from Canada.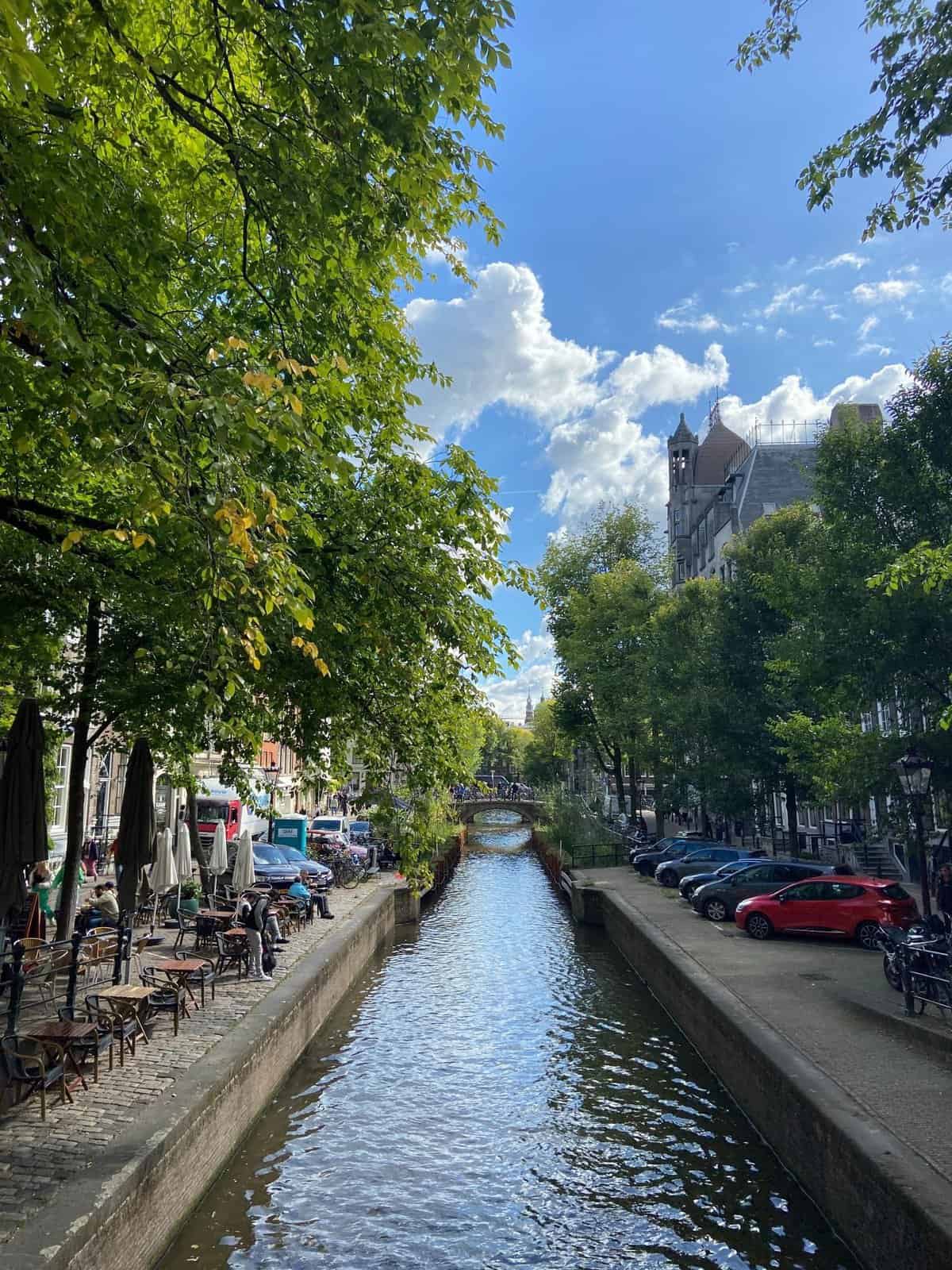 If you could go around the world visiting only one city on each continent, which cities would you choose?
I've answered this question before, but I think my answers change depending on my mood. For now I will say.
Mexico City, MexicoI've never been to Mexico City, but I've heard amazing things about the culture and food.
Medellin, ColombiaMedellin, the city of eternal spring, has been on my travel bucket list forever and I can't wait to visit one day.
Serengeti, TanzaniaI would love to go on safari in East Africa and it looks like the Serengeti in Tanzania would be one of the best places to spot animals. Another bucket list trip!
Bologna, ItalyI've been to Italy a few times, but not to Bologna. I can't wait to visit this region and enjoy the best food in Italy.
Kyoto, JapanI've been to Tokyo before, but I really want to go back to Japan to explore more of the country. I love the unique Japanese food and culture, so Kyoto and Osaka are high on my list.
Uluru, AustraliaI have been to the Gold Coast, Sydney and Melbourne in Australia but would love to explore the red center more. Seeing Uluru would be incredible.
And Antarctica! Since it's its own continent, I'll take the whole thing. Going to Antarctica is definitely on my bucket list.
If you had to plan a family trip, where would you go and what would you do?
We are actually planning a family trip to Sedona, Arizona this fall with my dad, stepmom, sister, and brother. I'm not a huge hiker, but I love the view, so I'm looking forward to meeting some great people in Arizona. But my ultimate family trip would probably be a safari in East Africa or renting a villa for everyone in Tuscany, Italy. I definitely dream of doing both of those trips with my parents and siblings.
Top 5 favorite travel meals
I can't promise that these are my absolute top five, but they're definitely up there;
Chocolate Napoletana Pastries in Madrid
Khao Soi Chicken Curry from Chiang Mai
Fresh sushi in Tokyo
Fresher Seafood in Canada's Maritime Provinces
Pizza in Naples
Check out 24 more delicious dishes from around the world.
Which direction totally surprised you? Which direction totally disappointed you?
I was really surprised on my last trip to Bath. I thought it might be a bit overrated, touristy and a place you could just visit on a quick day trip. But I was pleasantly surprised to discover that Bath is really charming and there is so much to see, do and eat.
I remember being very disappointed in Geneva, Switzerland. It was my first (and so far only) taste of Switzerland and I was expecting beautiful mountains and Swiss countryside from my imagination. Instead I just got an expensive, boring city with a beautiful lake in the middle.
What's still on your travel bucket list?
Almost everywhere I haven't been is on my bucket list. But if I had to narrow it down, top of my list would be exploring India, sailing around Antarctica, seeing Machu Picchu, going on safari in East Africa and living abroad again.
What direction is calling your name in 2024?
I definitely think 2024 is the year we go back to Asia. We last visited Southeast Asia for three weeks in early 2019. I would like to visit Japan or Korea again and explore more, or save some money and go back to Southeast Asia. I think I'll probably wait to see what flight deal comes up first. Wherever we end up in Asia, I know the food will be amazing.
---
Thanks for my Traveler of the Month reboot. I hope you enjoyed getting to know me. Stay tuned as I will be introducing a new world traveler next month.