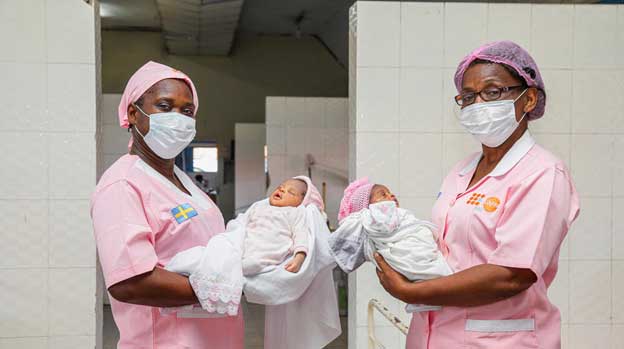 Opinion:

By Maniza Habib (

Washington DC

)
Inter press service
WASHINGTON, Mar 28 (IPS) – International family planning and reproductive health (FP/RH) are critical to achieving gender equality, but US investment in them is not nearly enough right now.
The Biden-Harris FY 2024 budget request proposes $619.43 million for bilateral FP/RH programs, plus $57.5 million for the United Nations Population Fund (UNFPA), for a total of $676.8 million : That's 11% more than Congress appropriated last year, and it's one of the only proposed increases in global health funding this year, but it's still just a fraction of what's needed.
The US fair share, that is, what it should contribute proportionately for all women of reproductive age in low- and middle-income countries (LMICs) to meet their modern contraceptive needs, is estimated at $1.736 billion.
Family planning gives people control over their bodies and their futures. At its heart is empowering individuals to make informed decisions about their sexual and reproductive lives, including if, when and how many children to have, and how far apart in space births are.
Access to family planning enables women to further their education and participate more meaningfully in economic and political life.
These are all necessary components of gender equality. Yet US funding for international FP/RH has remained stagnant for a decade, while global population, reproductive health needs, and barriers to access are growing. It is high time that the United States fulfills its responsibility to help close the gap.
There are 923 million women of reproductive age in LMICs who want to avoid pregnancy. About a quarter of them (218 million) have an unmet need for modern contraception. They want to avoid pregnancy, but they do not use a modern method. Reasons for this vary, from government restrictions on access to contraceptives to service providers refusing to distribute them to terrifying distances to the nearest clinic.
Adding to these barriers is gender discrimination. For example, the stigma surrounding contraception and sex makes it particularly difficult for young, single women to access services.
Marginalized groups face discrimination in clinics, including in the US, where members of the LGBTQ+ community, immigrants, and Black, Indigenous, and other people of color are often denied services and resources to meet their family planning needs.
To overcome these obstacles and pave the way for global gender equality, the world needs much stronger support from the US. Lacking sufficient investment to address barriers to sexual and reproductive health and rights (SRHR) around the world, US support for universal gender equality goals will inevitably weaken, according to a new report from the Population Institute.
Some governments are showing that they understand this problem and are changing policies accordingly. For example, Honduran President Xiomara Castro just lifted a 14-year-old ban on emergency contraception, which will revolutionize access to FP/RH services. Starting April 1, the provincial government of British Columbia will provide prescription contraceptives for free.
The US has a responsibility to lead global SRHR, but has relinquished its leadership in recent years and is lagging behind. US bilateral and multilateral FP/RH programs have come under attack, particularly as a result of restrictive Trump-era policies.
The modest increase in FP/RH funding in the current budget proposal demonstrates that the Biden-Harris administration recognizes the importance of global SRHR. But it does not reflect the urgency or level of commitment required.
At the same time, it reduces the SRHR by incorporating the Helms Amendment, an outdated ban on using US foreign aid funding for abortion as a family planning method. In practice, enforcement of the Helms Amendment means denying abortions even in cases of rape or incest, or in cases where it would save the woman's life.
Targeting fair shares of US FP/RH funding in the latest budget proposal is a missed opportunity. Let's not miss it again. The global population has recently passed the 8 billion mark, and the need is growing.
We can meet this moment by recognizing the fundamental connections between SRHR, gender equality, and sustainable development, and by acknowledging the U.S. commitment to lead in achieving them.
Maniza Habib is a research associate at the Population Institute, a nonprofit organization based in Washington, DC that supports reproductive health and rights.
IPS UN Bureau
Follow @IPSNewsUNBureau
Follow IPS News UN Bureau on Instagram
© Inter Press Service (2023) — All rights reservedOriginal source: Inter Press Service