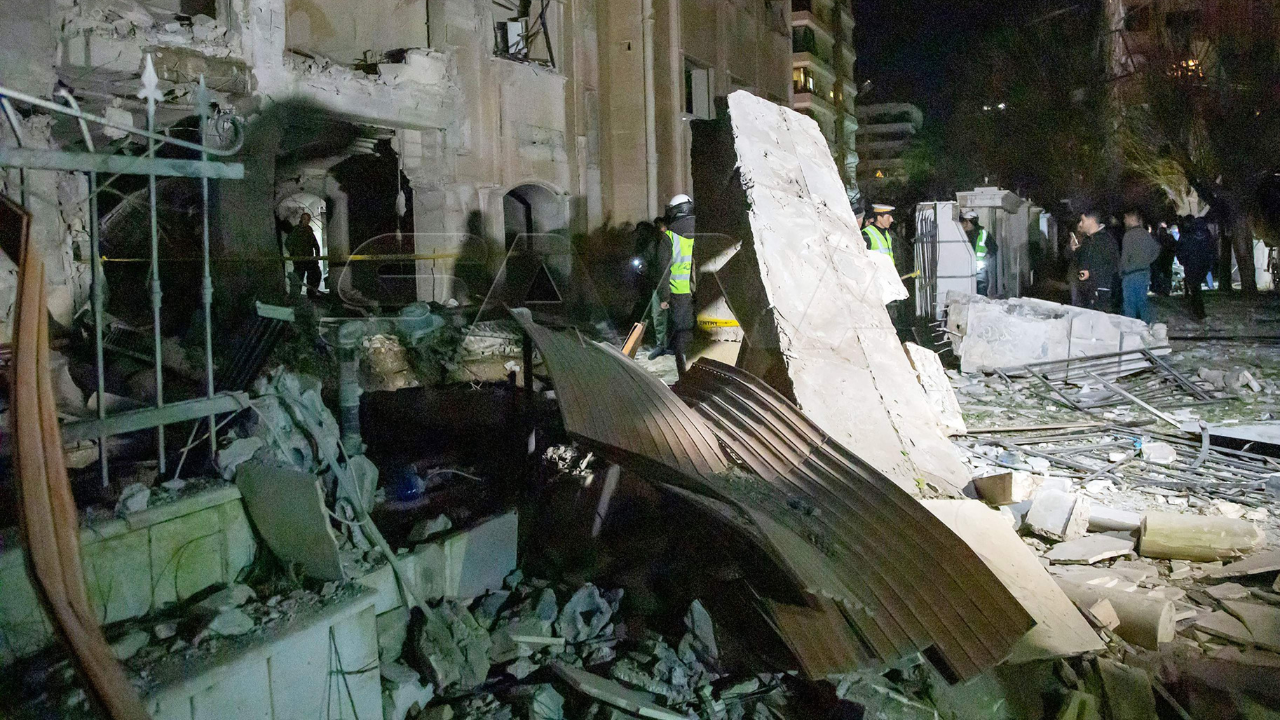 BEIRUT. An Israeli missile strike early Sunday killed 15 people and destroyed a building in a Damascus neighborhood that houses most of Syria's security apparatus, a war monitor said.
Syrian Observatory Human Rights Watch said the strike, which hit near an Iranian cultural center, killed 15 people, including civilians.
Since the start of the war in Syria in 2011, Israel has carried out hundreds of airstrikes against its neighbor, mostly targeting the positions of the Syrian army, Iranian forces and the Syrian regime's Lebanese Hezbollah ally.
But it rarely hits residential areas of the capital.
On Sunday, the strike hit the town of Kafr Sosa, home to senior officials, security agencies and intelligence headquarters.
"At 00:22 (GMT 2222), the Israeli enemy carried out an air aggression in the direction of the occupied Golan Heights, targeting several areas in and around Damascus, including residential areas," the Syrian Defense Ministry said in a statement.
According to preliminary data, five people were killed, including one soldier, and 15 civilians were injured, some of them in critical condition.
Israel's military rarely comments on its strikes against Syria, but regularly insists it will not allow Iran to extend its influence to Israel's borders.
The Syrian regime of President Bashar al-Assad receives military support from Tehran and its allied Shiite armed groups, including Hezbollah, which are declared enemies of Israel.
"Deadliest Israeli attack" in Damascus
Footage released by state media showed extensive damage to the 10-story building in the attack, crushing the structure of its lower floors.
Large chunks of the building were thrown into the street below, which was covered with siding and metal fittings.
Images published by state media showed that several windows of the building had been blown out.
"Sunday's strike is the deadliest Israeli attack in the Syrian capital," he said Rami Abdel RahmanThe head of an observation center based in Britain, which has a wide network of sources inside Syria.
The attack came more than a month after an Israeli missile hit Damascus's international airport, killing four people, including two soldiers.
The Jan. 2 strike hit "Hezbollah and pro-Iranian positions in and around the airport, including a weapons depot," the Observatory said at the time.
Late last year, the head of the Israel Defense Forces' Directorate of Operations, Major General Oded Basiuk, presented the military's "operational outlook" for 2023, saying the force "will not accept Hezbollah 2.0 in Syria."
The conflict in Syria began in 2011 with a brutal crackdown on peaceful protests and escalated to involve foreign powers and global jihadists.
Almost half a million people died and the conflict forced about half of the country's pre-war population to flee their homes.
The latest blow comes as the Damascus government seeks to recover from a Feb. 6 earthquake that did not affect the capital but killed more than 43,000 people in the country's north as well as southern Turkey.