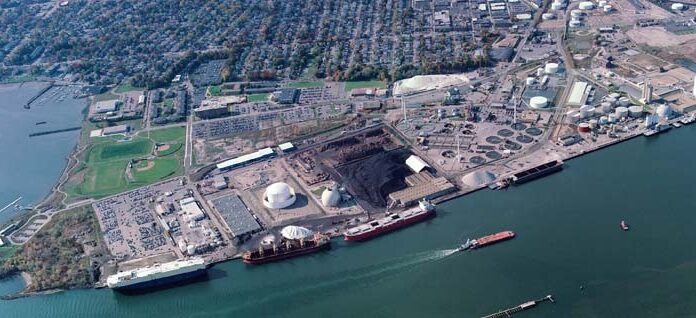 PROVIDENCE – The Providence Harbor shoreline and Narragansett Bay are set to benefit from nearly $691,000 in federal funding to support coastal resiliency and restoration.
The National Oceanic and Atmospheric Administration, an agency of the US Department of Commerce, announced on April 21 the financial award being offered to Rhode Island as part of the federal Climate-Ready Coasts initiative.
While still officially a proposal, the language is "standard procedure for grant funding through NOAA," said spokeswoman Kate Silverstein. While the exact dollar figure may change slightly, "we expect the funding to be committed to project partners in the next few weeks," Silverstein noted.
The proposed allocation includes $482,000 to the Port of Providence and $199,000 to the Narragansett Bay National Estuarine Research Reserve.
On Tuesday, Governor Daniel J. McKee, US Secretary of Commerce and former RI Governor Gina M. Raimondo and state congressional and environmental leaders gathered at the practice to highlight the proposed environmental award, as well as other recent climate and community funding. resources.
As an Ocean state, Rhode Island is "uniquely vulnerable challenges on climate change," Raimondo said, "and to that end, we're making unprecedented investments in our coastal communities."
The proposed ProvPort allocation, which came from the program's Coastal Habitat Restoration and Sustainability Grants for Vulnerable Communities, will fund a technical analysis to assess coastal conditions and identify potential habitat restoration opportunities, according to NOAA, with input from community members most affected by the port. Providence activities.
The proposed portion of National Estuarine Reserve System Habitat Protection and Restoration grants for the Narragansett Bay National Research Reserve will support the design and permitting of projects that protect the bay's significant coastal wetlands.
This work will create space for three marsh and riparian habitats to move upstream by altering coastal roads and removing infrastructure that may impede marsh migration.
The Biden administration's Climate-Ready Coasts initiative allocates nearly $6 billion to national coastal efforts funded by the bipartisan Infrastructure and Inflation Reduction Act.
Eligible projects include "high-impact projects that create climate solutions through carbon storage; build resilience to coastal hazards such as extreme weather events, pollution and marine debris; restore coastal habitats that support wildlife and human prosperity; build the capacity of underserved communities and support community-based recovery; and providing employment opportunities," according to NOAA.
In a webinar Tuesday afternoon, state leaders also highlighted other climate initiatives, such as an $82.5 million U.S. Department of Transportation grant awarded last fall to support upgrades to the Newport Claiborne Pell Bridge.
John Torgan, director of the Rhode Island Nature Conservancy, said the Ocean State will continue to require a "robust federal funding pipeline" to address;increased flooding, pollution, severe weather events and other impacts of climate change.
This work will also require strong state-level support for municipalities, McKee said.
"As a former mayor … I know that limited resources limit the opportunities we want to provide for the people who live in our cities and towns," he says.
"These investment programs don't work for our municipalities unless the state works together to support them," McKee added.
Jacqueline Vogel is a PBN staff writer. You can reach him at Voghel@PBN.com.

Want to share this story? Click here to purchase a link that allows anyone to read it on any device, whether they're a subscriber or not.