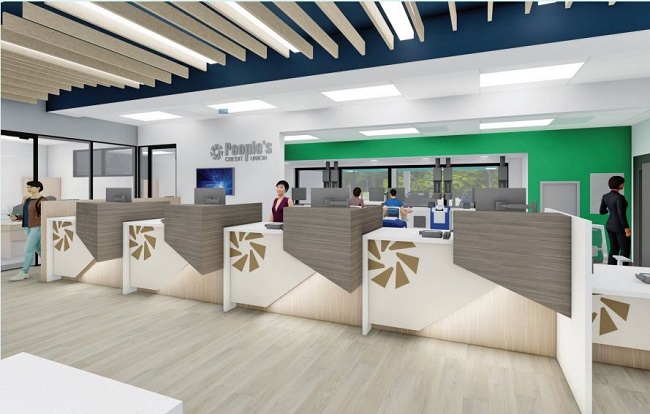 MIDDLETOWN – People's Credit Union has begun a major renovation of its main branch at 858 West Main Road in Middletown, which will add self-service technology upgrades and improve personal service, the credit union said.
The branch's lobby, in a building that also serves as People's Headquarters, will be closed during renovations, but five lanes and an ATM will remain open.
Due to the closure of the Middletown lobby, branch hours have been extended at the credit union's Newport and Portsmouth locations.
The works are planned to be completed in July.
PCU hired financial services design firm PW Campbell, based in Pittsburgh, to oversee the redesign, and construction is being handled by local contractors and subcontractors, the credit union said.
"The latest proven technology and industry best practices have been incorporated into the branch redesign," said Jane McDurman, People's Vice President of Retail. "Having PW Campbell partner with knowledgeable and skilled site contractors, we are confident the renovated branch will meet and hopefully exceed our members' expectations."
"As technology creates better ways for us to serve our members and for our members to serve themselves, People's Credit Union is committed to making those investments," said Sean Daly, People's CEO and President. "The new Middletown branch design will provide members with these options, along with the exceptional personal attention the credit union has always been known for."
People's Credit Union has six branches and had $620 million in assets at the end of fiscal year 2021, according to that year's annual report.

Want to share this story? Click here to purchase a link that allows anyone to read it on any device, whether they're a subscriber or not.