Whenever people think of Thailand, most tourists imagine the hustle and bustle of Bangkok or the stunning beaches of Phuket and Krabi. Such was the case with me and my husband Michael. We've been to Thailand many times before, but always gravitated towards the cities, not realizing how much we were missing out on by not exploring Northern Thailand.
So when Michael and I finally got around to traveling on our honeymoon, promising to return to Thailand to celebrate, we not only planned to visit Bangkok, but explore parts of Chiang Mai, Phuket, and Chiang Rai; the perfect balance between city, beach and mountains.
Our three-day stay in Chiang Rai was particularly memorable, to say the least. It was a much needed stop after four days of exploring and eating in Bangkok; and the Pa Sak Tong estate where we stayed was incredible. Here we enjoyed a beautiful private villa complete with our own private pool, a team of hosts and private chefs always available, a private fitness center and endless walking paths to wander when we wanted to explore the estate.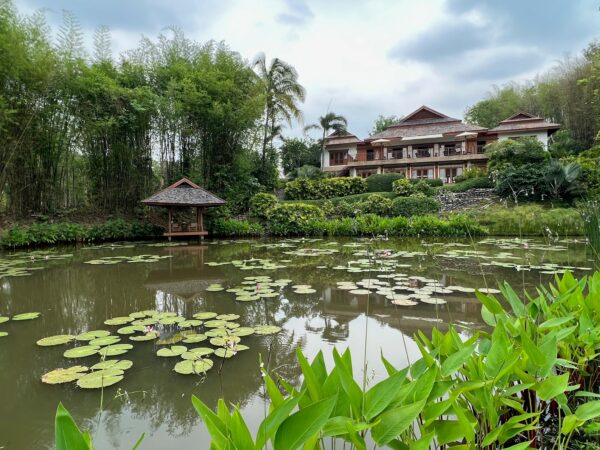 The property
Surrounded by farmland and overlooking the nearby mountains, Pa Sak Tong is about 20 minutes from Chiang Rai Airport. The property has two villas, the first of which is Baan Sak Tong (or Thai Chalet) where we stayed. The villa has six bedrooms, a private spa, a steam room, an entertainment room and a gym. The villa overlooks the pond and has a nice sitting area by the water where you can enjoy the view. While at our villa we were able to relax by the pool, wander the grounds, get massages and appreciate the mountain views. It really has all the amenities one would want.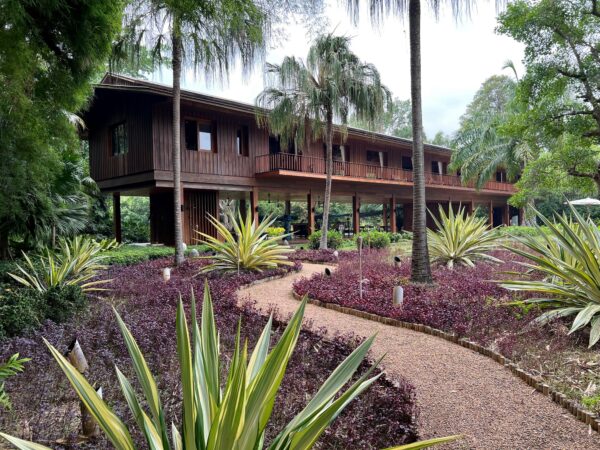 The second, larger villa is the Khum Sak Thong (or Luxury Longhouse). This villa has seven bedrooms, a private heated pool, multiple pavilions, a private dining room and an entertainment center. Khum Sak Thong is perfect for groups or families as they will never run out of things to do. The furniture and decor throughout the property is also quite stunning. Staying here, you really feel like you are in your own private Thai mansion.
Exclusivity and service
What we enjoyed most about our stay at Pa Sak Tong was the quality of service and the privacy that the property offers. The entire property is reserved for only one party at a time, so when you stay here, you're sure no one else will be. It is perfect for people who want to disconnect from the outside world.
The staff also goes above and beyond to meet your every need. They helped us coordinate activities to fit our schedule, with each excursion customized based on our specific interests and hobbies. The food was seamlessly adapted to suit dietary restrictions and the team even brought in a doctor when my husband was feeling under the weather. Perfect professionals, I couldn't be more grateful for their help throughout our stay.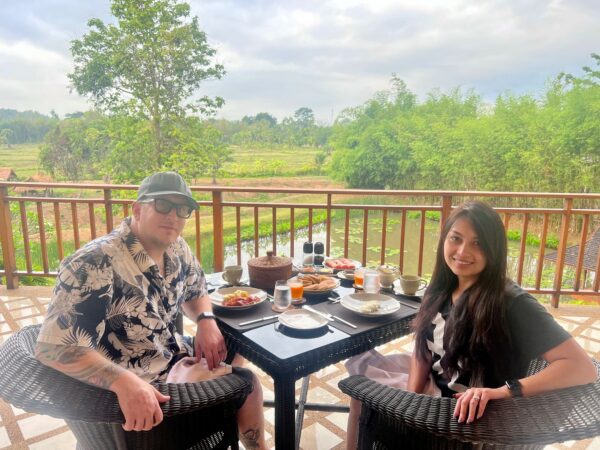 Meals were enjoyed in the privacy of our villa with breakfast served on the terrace. The views were spectacular and the food was amazing, a mix of popular Thai dishes and Northern Thai specialties. The staff at Pa Sak Tong are local and live in nearby villages, so their knowledge of Northern Thai culture and cuisine is second to none.
The estate also has a restaurant on site which, while open to the public, has very limited seating and thus maintains a level of intimacy. Lotus Native Food Lab, led by Chef Kong (Kongwut Chaiwongkajorn), offers guests a taste of authentic Northern Thai cuisine in a cozy and unique environment. What's more, everyone can relate to Chef Kong as he explains the culinary history and shares stories about the ingredients he serves.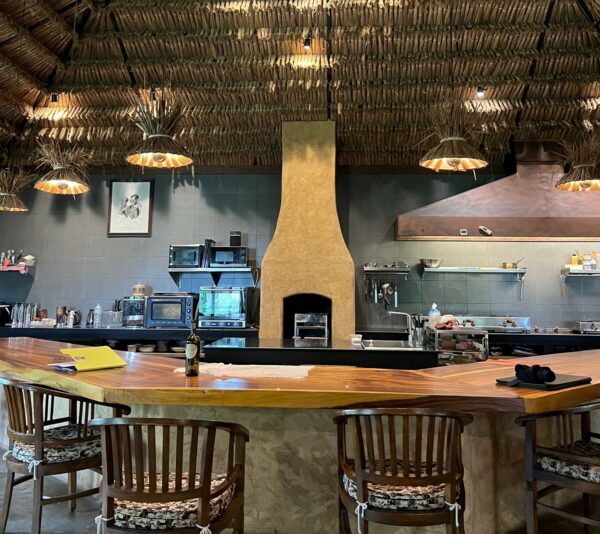 Activity
One morning we went hiking in the countryside. This hike went around the estate, into the nearby tea plantations and took about an hour (there is a shorter route option). The hike ended at the plantations where our host greeted us with cold towels, water and a car to take us back home. It was a nice, informative tour where we got to see how the locals live and what the culture is like in this area of ​​Thailand.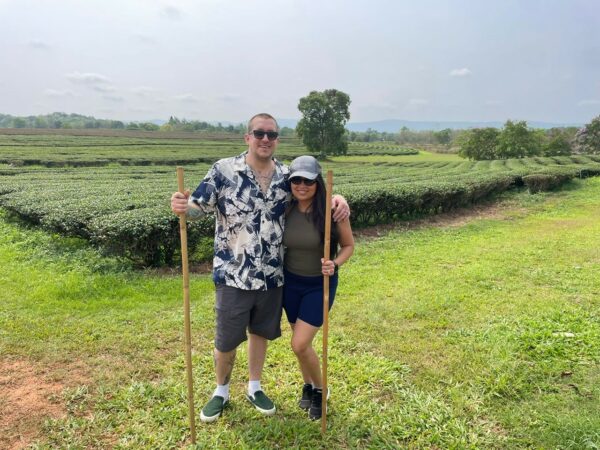 Our favorite activity was visiting the nearby elephant sanctuary which was only 45 minutes away from the estate in the mountains. Located in beautiful open farmland, the owner and trainers here have dedicated their lives to caring for these wonderful creatures. The owner of the property even calls the elephants "children" and forbids tourists from riding them to ensure their well-being.
When we met the two pachyderms, we spent some time watching them eat, and periodically gave them a banana heart, some leaves, or bamboo. The pile of food quickly disappeared and I couldn't believe how much they ate. The female elephant was also pregnant and they are expecting a baby in 20 months. To accommodate these new arrivals and give them shelter during the summer months, the sanctuary has gone to great lengths to build a formal place for them to sleep. Because right now, elephants roam the nearby hills and mountains at night.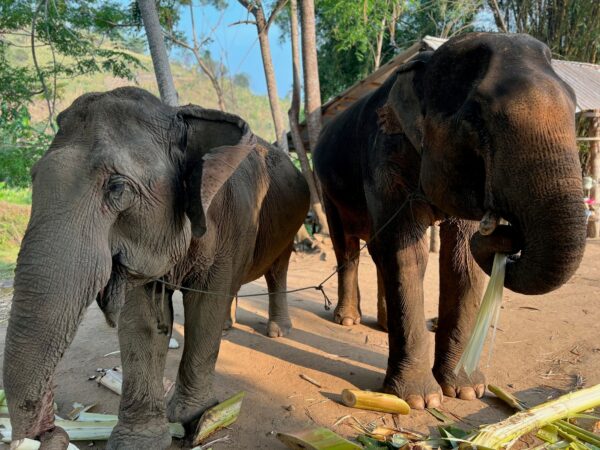 We then went down into the pond with little buckets to help bathe the elephants, which was an absolutely surreal experience. Standing in the water, we splashed them a few times and watched their ears pop with joy. Our guide, a local mahout (elephant caretaker), informed us that this is how elephants express love.
Our time at the sanctuary was a real highlight of our honeymoon, and all the more enjoyable because it was a private tour. Michael and I felt like we really connected with the elephants and shared this special moment together. Guests staying three nights or more at Pa Sak Tong have the opportunity to participate and I can't recommend it enough for couples and families. It was something we will remember for years to come.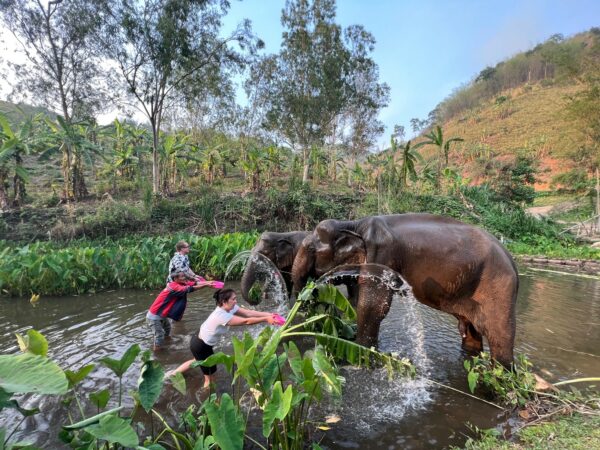 Overall, our time in Chiang Rai and Pa Sak Tong exceeded our expectations. The mountains, the privacy and the ultimate luxury of service are things worth experiencing. Thailand will always be one of my favorite countries in the world and I'm glad I got to explore it more with the love of my life. All the experiences we had on our honeymoon were worth the three-year wait.