Max Verstappen fastest from Charles Leclerc and Carlos Sainz during second practice at the Monaco GP; but it wasn't an easy Friday for the F1 championship leader as he initially struggled with the balance of his RB19. Watch P3 from 11.30am on Sky Sports F1, with qualifying at 3pm
Last updated: 26/05/23 19:06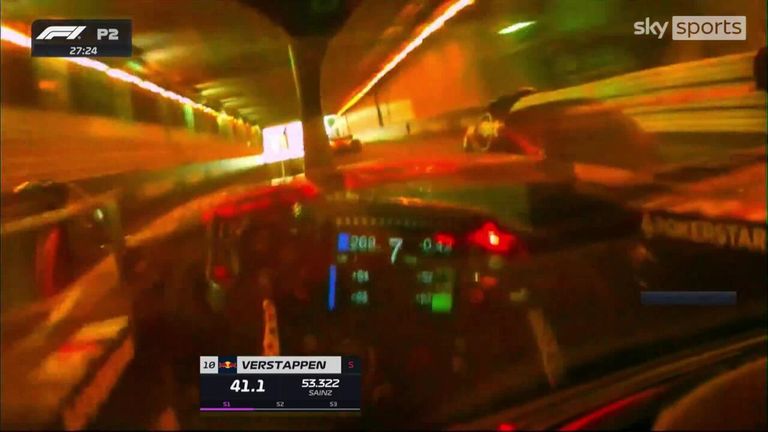 Ride with Max Verstappen as he navigates the streets of Monaco during FP2

Ride with Max Verstappen as he navigates the streets of Monaco during FP2
Max Verstappen believes Red Bull need to find "a bit more" pace to stay ahead of Ferrari at the Monaco Grand Prix.
Verstappen, who struggled with the balance of his RB19 in practice 1, was fastest in Friday's second practice, but only 0.065s behind Charles Leclerc.
Leclerc is looking to make it a hat-trick of pole positions at home on Saturday.
"FP1 was quite difficult. I wasn't really happy with driving on curbs. FP2 was already much better, the car was much more competitive," said Verstappen.
"Compared to Ferrari, we still lack in the overall handling of the car, so how it handles curbs, bumps, dips. So that's still something we have to work on.
"They are very, very close and knowing that when we all go to the qualifying line, we need that little bit more to stay ahead of them."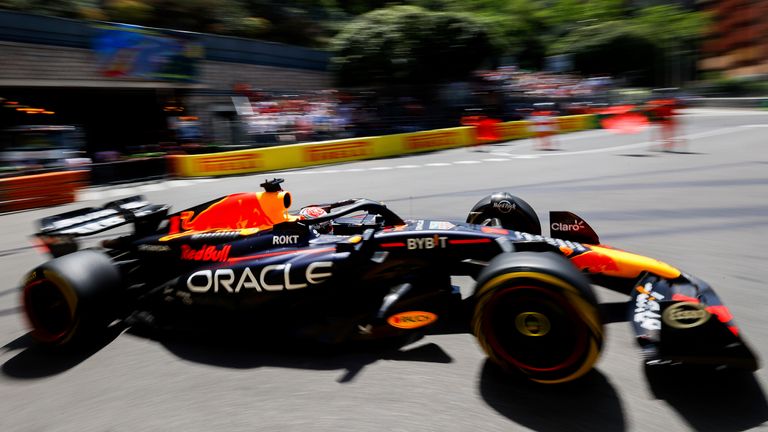 He added: "I think there's still a bit of a chance to go more in the same direction, so hopefully it will be better.
"The car was drivable and it makes you want to set that lap [together], push a little more, approach the guard rails surrounding here. All in all, a rough start but a good finish.
"[Aston Martin] they're close too, so we definitely need to build a bit more of a buffer if we want to be ahead of them."
Verstappen said his Red Bull car initially struggled around the Monaco track during practice on Friday
Last year's Monaco GP winner Sergio Perez had a difficult day as he was seventh and more than half a second behind teammate Verstappen.
The Mexican, who trails Verstappen by 14 points in the standings, admitted it was "not a great day" for him.
"I've just got to sit down with the boys and go through it and try to put the best bits in there, every millisecond here will make a difference," he said.
"I think it's going to be a real challenge going into the qualifiers, so it's going to be an interesting session.
"Getting on top of the tires and making sure we put the tires in the right window at the right time."
Sainz. The crash won't affect me
Carlos Sainz was fastest in Practice 1 and looked strong in the second session before crashing at the pool chicane.
As many drivers have done over the years, Sainz pushed the inside barrier at Turn 16, which broke his suspension and sent him straight ahead into the outside wall.
"It was a very minor crash, I just clipped the inside wall at turn 16. A typical Monaco miscalculation, so it's a shame because I gave the mechanics extra time today," said Sainz.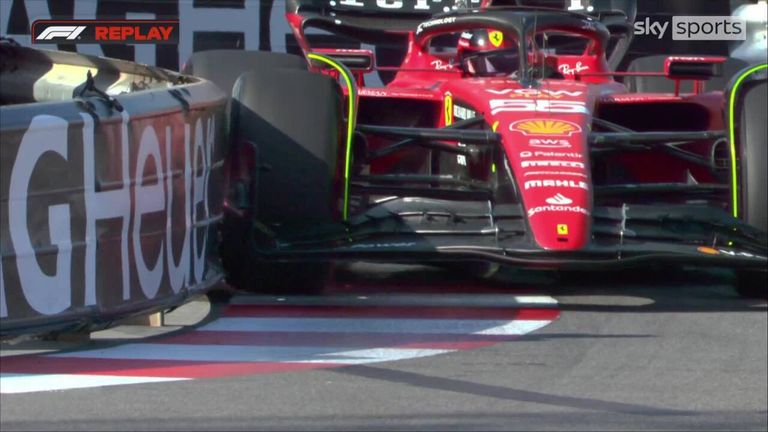 Carlos Sainz breaks the barrier on the inside of the Poolside Chicane to crash and bring out the red flag in FP2.
"But in terms of confidence and lap times, I've been on it all day and one miscalculation won't affect me.
"I think we're on the right track to at least challenge it [pole]. I think Red Bull is still fast, they are still leading after today.
"But we've been closer than any other weekend and we're hoping we can at least give them a run for their money, but I think it's still going to be tough."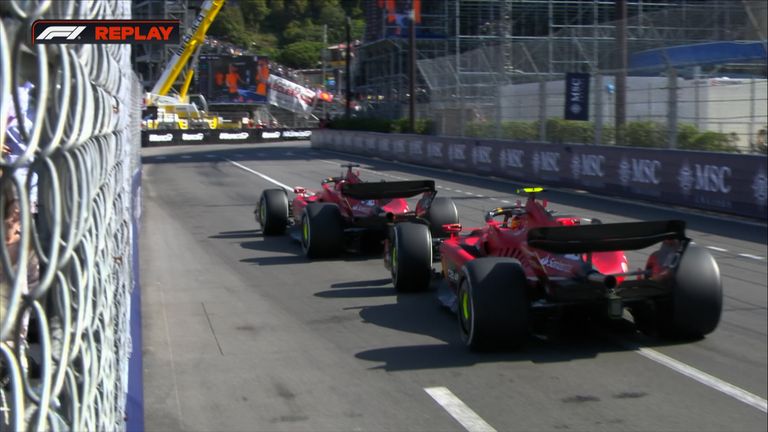 Carlos Sainz avoided a collision with Ferrari teammate Charles Leclerc during the second practice session at the Monaco GP.
Leclerc. Everything is possible
There was little to separate the Ferrari pair for most of the day and Leclerc hinted that pole position was possible.
"We are good, but Aston Martin and Red Bull are also very fast," he said. "We still have to make a step forward, the feeling with the car was not too bad, a little difficult in FP1, a little better in FP2, but there were some things that were not expected on my car, so we Will work through the night trying to get the car exactly how I want it.
"I will give everything, qualification is everything here. There's a lot of talk about my last race, but at the end of the day qualifying has always been one of my strengths, so I'm not too worried and I won't be. go for it and see what happens.
"I don't think we have the best car, Red Bull is faster, Aston Martin is close, but if we do a great job and if I put everything in my lap, then anything is possible."
The Formula 1 season continues with the Monaco GP this weekend. Watch qualifying on Saturday at 3pm, lights out at 2pm on Sunday. Get Sky Sports