A UK-based Iranian broadcaster forced to relocate due to threats from Tehran is being guarded by armed police and the situation is "getting out of hand", a senior editor has said.
Iran's international television was had to move its headquarters from west London to Washington, DC, after police warned of "imminent and credible threats to the lives of their journalists," the station said in a statement.
The channel said it had "reluctantly" closed its west London studios in Chiswick, but its staff "refuse to be silenced by these cowardly threats".
After the decision, editor Niusha Boghrati told Sky News. "Threats have turned into the reality of terrorism.
"That's what the Meetings Police told us. The threats were so real this time that they had to ask us to move the operation out of the country.
"Tehran's threats have turned into terrorism."

"It was hard to believe.
"The Met Police have been heavily guarding the location of the London office with armed officers, but it seems to be getting out of hand right now. It was very significant.
"When you enter this arena as a journalist covering an Islamic government, you know there are going to be consequences. We have been living with those consequences for several years now.
"Threats and pressures against journalists are not new, but the threats of murder and kidnapping are an extreme that we have not experienced until now.
Scotland Yard has revealed that police and MI5 have foiled 15 plots since the start of 2022 to kidnap or kill UK-based individuals perceived to be enemies of the Iranian regime.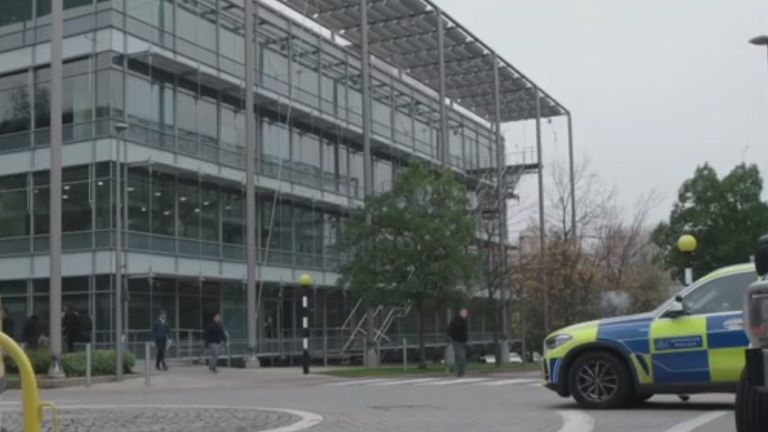 A man was arrested Monday near a television studio and charged with terrorism in connection with surveillance of the company's headquarters, police said.
Mr. Boghrati said the channel's coverage of the protests and the "greater goal" of seeking the truth for people in Iran would not stop.
He added: "It was a difficult time, but we managed to keep the operation going 24/7.
"A greater purpose will keep us all going."
Read more:
An Iranian missile was intercepted by the Royal Navy
Wanted protest leader says 'people have become bolder'
The spokesperson of the Ministry of Internal Affairs said. "Media freedom is a vital part of our society and journalists should be able to investigate and report independently without fear.
"We will not tolerate any threats to the media or journalists. We know that the Iranian regime has established a pattern of this type of behavior that is completely unacceptable, but unfortunately characteristic of the regime and its lack of respect for basic rights.
"Police continue to work in response to this threat. We will continue to use all the tools at our disposal to protect individuals in the UK from any threat from the Iranian state."