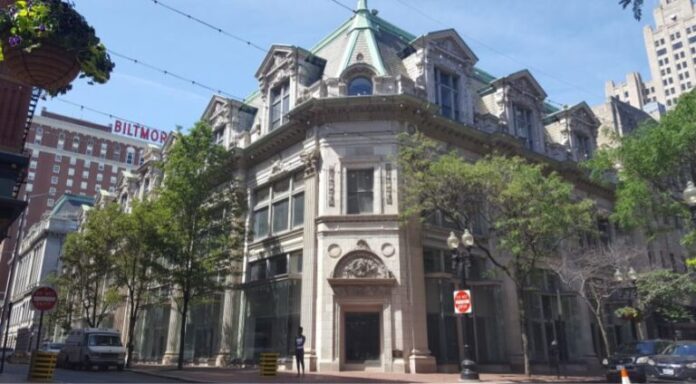 PROVIDENCE – The R.I. Commerce Corp.'s investment committee voted Tuesday to grant $1.5 million in tax incentives to Westminster Partners LLC, owner of the vacant former Providence Journal building on Westminster Street, which they hope to develop into apartments, retail and co-working space.
The measure now goes to full board of directors approval.
The $53 million Hive Life proposal includes 124 apartments, 11,500 square feet of retail space, a 13,000 square foot lounge, a 4,600 square foot rooftop bar and 10 parking spaces.
A since-abandoned $6 million TIF application was approved by Commerce in 2019 for a 91-room hotel and 48 residential units projected to cost $39 million. That plan was scrapped because of what Westminster Partners principal Jim Abdo described as market forces.
Available through tax increment financing legislation approved by the General Assembly in 2015, the Commerce TIF program provides capital to private developers for projects that cannot exceed 30% of total project costs or 75% of the incremental revenue generated.
Under the amended agreement, Westminster Partners will receive $1.5 million in tax credits that will be offset by future food and beverage sales taxes, according to Commerce Representative Lindsay Russell, who added that an economic impact analysis will be released before the next council meeting. .
A separate 20-year tax stabilization agreement with the city was approved by the Providence City Council back in November. The deal is expected to save the developer $4.2 million.
In a statement Tuesday, Abdo said the new project "will have a positive, halo effect for one of the city's most important corridors, bringing pedestrian-level retail and residences downtown."
Abdo noted that the hotel's original TIF request called for $6 million in incentives.
"Our ownership group has carried these buildings through the pandemic and continued to invest in programming concepts that allow these buildings to be economically viable over the long term," he said.
(Christopher Allen is a PBN staff writer. You can reach him at Allen@PBN.com)

Want to share this story? Click here to purchase a link that allows anyone to read it on any device, whether they're a subscriber or not.