The destruction of the Kakhovka Dam on the Dnieper River could endanger the Zaporizhia nuclear power plant, Chinese UN Ambassador Zhang Jun told the Security Council on Tuesday. Beijing has urged Ukraine and Russia to ensure that this does not happen.
"We express our great concern regarding the destruction of the dam of the Kakhovka hydroelectric power station." Zhang said at the extraordinary session of the UN Security Council.
Noting that the Kakhovka reservoir is the main source of cooling water for Europe's largest nuclear power plant, Zhang added that the water in the reservoir continues to recede. "And it is not possible to continue pumping water to the nuclear power plant in the future."
"China reiterates that in the event of a nuclear disaster, no one can remain unscathed. We call for maximum restraint to avoid words and actions that could escalate the confrontation and lead to miscalculations, as well as preserve the safety and security of the Zaporozhye nuclear power plant." said Zhang.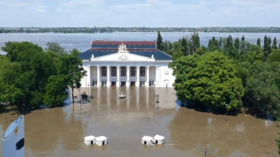 "Neither side, especially countries with significant influence, should fan the flames and escalate tensions, let alone try to take advantage of extended crises to advance their own strategic agendas." The Chinese envoy added.
Ukraine has accused Russia of blowing up the dam and flooding towns and cities downstream, including Kherson in Ukraine. Moscow pointed the finger at Kiev, saying Ukraine had previously attacked the dam using US-supplied HIMARS missiles and released water from an upstream reservoir on the Dnieper River shortly before the Kakhovka dam collapsed.
The Zaporizhia NPP in Energodar has six reactor cores and is the largest nuclear power plant in Europe. Russian troops have been controlling it since March last year. The region where it is located voted to join Russia in late 2022, although Ukraine claims it is illegally occupied.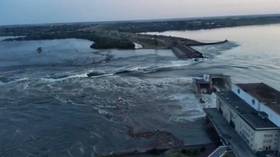 Ukrainian artillery repeatedly targeted the ZNPP last year, according to evidence Russia provided to the UN Security Council. In September, the Ukrainian military admitted in a report that it had hit Energodar. Before the visit of the observation mission of the International Atomic Energy Agency (IAEA), Ukrainian commandos also tried to capture the facility, but their attack failed.
IAEA chief Rafael Grossi claimed on Tuesday that "There is no immediate threat to the safety of the factory." Yevgeny Balitsky, Acting Governor of the Zaporizhia Region of Russia, also said that the current water level near the ZNPP is: "unusual" but still "acceptable".
You can share this story on social networks.