Adobe Commerce Pricing Explained: Count Your Magento Cost the Right Way
Imagine you're at a car dealer's choosing between three vehicles: 1) a free car with basic capabilities; 2) a luxury car at a decent price offering a smooth ride and an amazingly sharp roadholding; or 3) a costly new race car with tons of horsepower that Formula One drivers can only dream of.
Which one do you go for?
Apparently, your choice will depend on the purpose of your purchase — after all, no one is buying a race car to commute to work in the city. The same works for Adobe Commerce (Magento): each edition comes at a different price depending on the functionality and features a merchant needs.
Elogic is a certified Adobe Solution Partner with 14+ years of experience in the market. We've helped hundreds of Magento merchants build their stores, optimize them, and even choose the right platform edition to meet their business needs.
In this article, let's talk money and see what Magento pricing is for various editions and which costs are associated with implementation and maintenance of a Magento store.
How Much Does Magento 2 Cost? Adobe Commerce (Magento) pricing plans
It often easy to get confused about the total cost of ownership (TCO) of ecommerce software. You might have been promised to spend zero on the free Magento Open Source edition; and yet, here you are spending thousands on hosting and third-party extensions. 
Or someone might have scared you away with stellar license fees for Adobe Commerce editions; still, you see your competitor rolling out new features and marketing campaigns winning over your customers.
Read more: How Much Ecommerce Website Costs: Set the Right Budget for Your Project 
To stay on the safe side, better take a closer look at what's included in each Adobe Magento pricing tier. Read on to learn more about the specific Magento pricing plans and see how each of them aligns with your business objectives.
Magento Open Source pricing
They say the best things in life are free. Magento Open Source is one ‌such thing. You can download it for free, modify and edit any files, code all store data, and host it absolutely anywhere. 
Magento Open Source also has a basic feature set allowing B2C and DTC merchants to build a unique online storefront, including:
Integrated checkout, payment, and shipping
Mobile optimized shopping
Multistore capabilities for global selling
Catalog management
Instant purchase
Site search
WYSIWYG Page Builder
Still, no license fee doesn't mean low TCO. When opting for Magento Open Source, you'll need to consider other expenses, such as:
Hosting. Magento hosting costs can vary from $4 to $500/month depending on a server's features, support, and security. Being an open-ended system quite heavy in resources, Magento will require a decent dedicated server capable of sustaining Magento installation files and potentially high traffic. See the list of the best Magento hosting providers.
UI/UX design. Ever since its rebranding, Adobe has been narrowing down the choices of their pre-built marketplace themes, pushing merchants into creating their own, unique ones. Of course, you can browse some community-based websites like ThemeForest for a free theme. However, to avoid the risk of poor code and performance, you'd better budget for Magento design services to build a custom theme ($5,000+ for a custom theme).
Third-party extensions and integrations. Consider the license fees for any apps or third-party software you're about to integrate. These can be ERPs, CRMs, PIMs, or any other extensions you may download from the Magento marketplace (ranging from $0 to $15,000 in price). You can also install custom modules developed by a Magento extension development company, the price of which will be calculated based on the developer's rate (may roughly start at $1,000). 
Store maintenance and support. Running an online store requires routine checkups and bug fixes. The cost of ongoing Magento support varies from one agency to another and is usually calculated based on a developer's rate per hour. 
Adobe Commerce pricing
They also say you get your money's worth. The Adobe Commerce license fee (formerly Magento Enterprise pricing) is turnover-based; the software is hosted on premises and serves both B2C and B2B merchants. It also offers much more advanced features than its younger Magento Open Source sibling: 
B2B functionality
Business intelligence dashboards
Advanced marketing tools
Content staging and preview
Customer loyalty tools
Visual merchandising
Product recommendations
Customer segmentation
BOPIS and gift cards
Read more: Magento 2 Commerce vs Open Source Feature Comparison
One important thing about Adobe Commerce pricing is that it's based on a tiered model and will increase along with your Gross Merchandise Value (GMV) and Average Order Value (AOV):
| | |
| --- | --- |
| Average Gross Sales Revenue | Adobe Commerce pricing* |
| < $1,000,000 | $22,000/year |
| $1,000,000 – $5,000,000 | $32,000/year |
| $5,000,000 – $10,000,000 | $49,000/year |
| $10,000,000 – $25,000,000 | $75,000/year |
| $25,000,000+ | $125,000/year |
*this Magento Commerce pricing is given purely for illustrative purposes and does not indicate the exact figures of the vendor. For more accurate budget estimates, please, contact a Magento sales representative. 
Just like Magento Open Source, Adobe Commerce is a self-hosted edition, so you'll have to take care of ecommerce hosting cost yourself. You can choose to host it on premises (just like our Finnish client Wexon who had their on-site server environment configured) or in the cloud (for instance, our Aussie fashion client Whola had their store moved to AWS, thus optimizing Magento on AWS cost).
Adobe Commerce Cloud pricing
It is that race car with immense horsepower that we've been talking about at the beginning of the article. In addition to the above mentioned features of Adobe Commerce, Adobe Commerce Cloud pricing includes the obvious benefits of cloud hosting, enhanced page speed, and security, among others. 
Read more: What is Adobe Commerce Cloud? – Features And Benefits 
In this edition, your store will be hosted either on either AWS (Amazon Web Services) or Microsoft Azure. The pricing increases alongside your GMV:
| | |
| --- | --- |
| Average Gross Sales Revenue | Adobe Commerce Cloud pricing* |
| < $1,000,000 | $40,000/year |
| $1,000,000 – $5,000,000 | $55,000/year |
| $5,000,000 – $10,000,000 | $80,000/year |
| $10,000,000 – $25,000,000 | $120,000/year |
| $25,000,000+ | $190,000/year |
*this Magento Commerce pricing is given purely for illustrative purposes and does not indicate the exact figures of the vendor. For more accurate budget estimates, please, contact a Magento sales representative. 
Keep in mind: both Adobe Commerce and Commerce Cloud target high-ticket, complex businesses. This Magento license cost may seem skyrocketing at first glance but actually serves as an investment in future deals. In particular, here are a few cost-saving benefits businesses note after upgrading to Adobe Commerce/Commerce Cloud:
Team efficiency. Because many of the manual tasks can be automated (like the order entry or fulfillment), you can save a pretty penny on hiring more staff. The numbers of savings for a large organization might go as high as $341,000 in value of staff time per year.
Richer reports and analytics. Thanks to built-in business intelligence (BI), you can make more informed decisions rather than spending your budget shooting in the dark.
Advanced feature set. There's no need to spend extra on additional tools or integrations because Adobe Commerce has a rich feature set out-of-the-box. One company reported the reduced reliance on third parties saying, "We're using seven to eight plug-ins with Adobe Commerce, and I think we were at 45 with Open Source."
Adobe Commerce (Magento) Implementation Cost
Because of the open-source nature of the platform, Magento development costs should always be present in your budget. Whether you need to build a custom theme, or develop a new module, or even launch your Adobe Commerce website from scratch, you will have to pay for the development services.
How much does Magento development pricing cost? It depends on your store complexity and business requirements.
Usually, the pricing is calculated based on a Magento developer hourly rate, which will vary from $15 to $200+/hour depending on an engineer's location, seniority, and any available Adobe certifications. Multiply the hourly rate by the hours you need to spend on your Magento implementation and by the people you need on your team.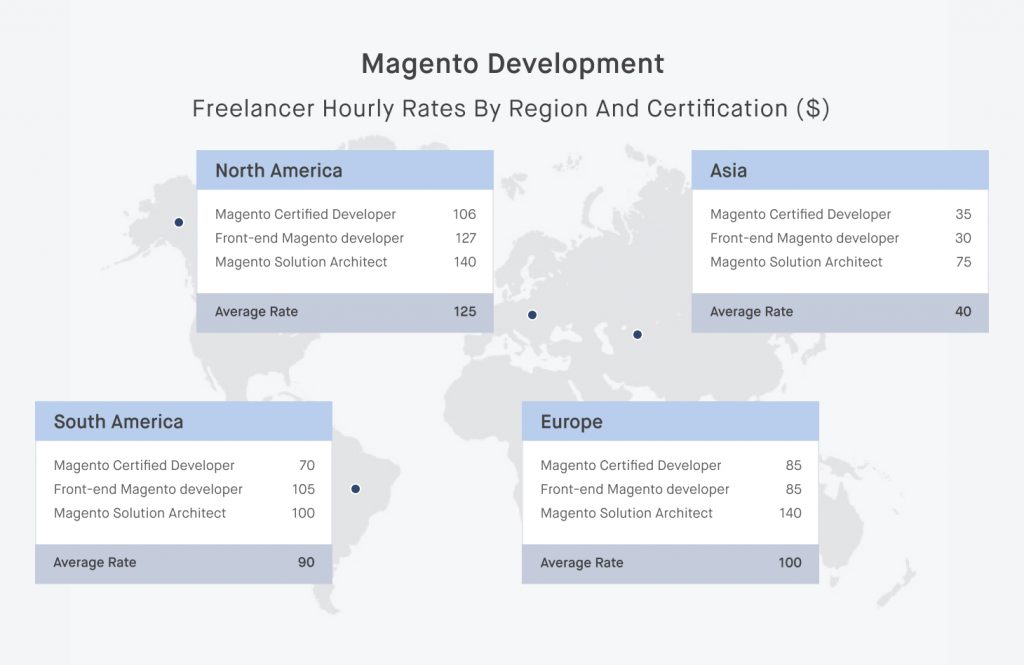 Here's an example. A mid-sized furniture seller wants to establish an online presence with the help of Magento Open Source. They want their new website to make a statement (so it has to be custom) and convert users into customers (so it has to follow a buyer's journey map and be intuitive for all users). In this case, the UI/UX design might take 135-150 hours and the platform implementation — about 200 hours.
Custom modules take much less time and will accordingly be cheaper (up to 30 hours). They may be a part of Magento website maintenance cost, starting from 60 hours a month, that often include Magento code audits, performance optimization, and oftentimes even ecommerce consulting.
To calculate your Magento implementation costs, you need to create a comprehensive ecommerce website development plan with a work breakdown structure (WBS), scope of work, and timelines.
Get a custom quote for Magento development services
Contact us, schedule a call with a Magento consultant, and get a budget estimate for your project
Get in touch


Magento Cost vs Competitors
Software pricing may be defining in one's choice of the platform. For some, Adobe Magento Commerce pricing might seem a bit steep, so it's always wise to compare your options.
One thing to remember though, is that each platform follows a different pricing model and offers various features for the fee. That's why at Elogic, we always encourage our clients to use common sense and choose the best ecommerce platform based on their business needs and requirements, not the price.
Here's a brief comparison table of Magento cost vs the competitors:
Platform
Adobe Commerce (Magento)
Salesforce Commerce Cloud
commercetools
BigCommerce
Shopify
Pricing model
Turnover-based
Per user
Turnover-based, pay-as-you-use
Subscription-based
Subscription-based
License fee
Magento Open Source — free

Adobe Commerce & Commerce Cloud — Available upon request

1% GMV rate for B2C and B2B Starter plan
2% for Growth plan
See more: How Much Does Salesforce Cloud Cost
Available only upon request
BigCommerce Standard — $25.95/month
BigCommerce Commerce Pro — $299.95/month
BigCommerce Enterprise — custom

See more: How Much Does BigCommerce Cost? 

Shopify Plus — $59/month
Shopify Advanced — $289+/month
Shopify Plus — $2,000+/month
Hosting included
only for Adobe Commerce Cloud
✅
❌
✅
✅
Perfect for
Businesses of all sizes looking for customization and scalability
Mid-sized or enterprise companies with a strong Sales department
Digitally mature online businesses tapping into headless commerce
SMBs looking to start selling ASAP
SMBs looking to start selling ASAP
Magento 2 Pricing Takeaways
When calculating Magento pricing, you should factor in expenses on Magento license, themes & visuals, hosting, extensions & modules, and store maintenance fees. Making choices in each of these aspects and adding up the expenses will make up the Magento pricing for your business in particular. 
But as a final recap, we'd like to suggest a few things that may affect your Magento cost. Having vast experience working with Magento clients of different scales and sizes, we've noticed the following trends: 
Although initially appealing for its low (or better said, free) pricing, Magento Open Source will bear higher customization and maintenance costs. It's a great edition to start with if you're only getting acquainted with Magento, but don't fall into the trap of free cheese in the mousetrap. When labor and maintenance fees are factored in, the overall costs of Magento Open Source and Adobe Commerce may not be so far apart. 
Not everyone needs the horsepower and high security ratings of Adobe Commerce Cloud (just like with a race car in the city, remember?). Consider your business scale and goals and compare the features of Magento edition before you break the bank to buy the most expensive one.
Magento pricing is only a part of the total ecommerce development cost. Consider the costs of marketing, website maintenance, and security protocols to plan your ecommerce budget.
All we're trying to say is: choose a Magento edition based on its functionality rather than the pricing. And whenever you need help, we're right here for you.
Let us build a perfect Magento website for you!
Get a free consultation with us at Elogic.
See the service


FAQs
How much does Adobe Magento cost?
Magento ecommerce pricing depends on the edition you choose. The license fee for Magento Open Source if free; however, you'll need to pay extra for hosting, themes, extensions, etc. Adobe Commerce (formerly Magento Enterprise) and Commerce Cloud license fee is based on your Gross Merchandise Value (GMV) and Average Order Value (AOV).
Is Adobe Commerce the same as Magento?
Yes, it is. After Adobe acquired Magento in 2018, the platform has been completely rebranded and Magento is now fully integrated into the Adobe ecommerce experience ecosystem.
How much does Magento cost per month?
You'll need to request a custom quote to calculate the Adobe Commerce cost per month for your specific business. The cost of Magento maintenance per month will depend on the level of engagement of your development team and your business requirements. Reach out to us at Elogic to get a custom quote for your specific business case.
What is Magento B2B pricing?
A B2B module is already integrated in an Adobe Commerce and Commerce Cloud edition, so there's no need to pay extra. You can purchase third-party extensions to improve the functionality of your B2B channel or create a custom B2B portal if needed; in this case, the pricing will depend on your requirements.
Is Magento free?
Only the Magento Open Source edition is free of charge. The source code may be downloaded from GitHub; however, you will have to invest in Magento development services unless you're keen on programming yourself.