Mehul Reuben DasApr 04, 2023 19:05:03 IST
Pros
– Excellent Battery life
– Premium-looking design 
– Solid build quality
– Impressive camera setup
– Vibrant Super AMOLED, 120Hz display
– Samsung's software update policy
Cons
– 25W charging, with no charging brick in the box
– Should have been priced a little lower.
– Bloatware and banner ads that too at this price point.
Price: Rs 40,999 for the 8GB + 256GB variant
Rating: 4.25/5
Despite the n number of smartphone brands that operate in the mid-range segment in India, Samsung, for the most has consistently been one of the best-performing brands in the market, thanks to their Galaxy A series. 
The latest offering, the Galaxy A54, hopes to take the legacy of their A series forward. But does it manage to do that? In short, yes, it does.
The Galaxy A54 offers a very well-rounded user experience. It has a camera system that works really well even in some challenging conditions, a battery that will easily last you a day even if you are a very demanding user, and it performs well in regular, everyday, day-to-day tasks.
Moreover, with a slightly refreshed design, it looks pretty premium, almost as premium as some of Samsung's flagships. 
But does that make the Samsung Galaxy A54 5G a solid choice, especially when there are so many options to choose from at this price point? We take a look.
Samsung Galaxy A54 5G review: The design
Unless someone is a hardcore tech enthusiast, anyone who just takes a casual look at the Galaxy A54 5G is likely going to mistake it for a Galaxy S23 Plus. Only when you take a closer look, do you get to see the differences between this mid-level Galaxy A54 5G and the flagship-level Galaxy S23 Plus.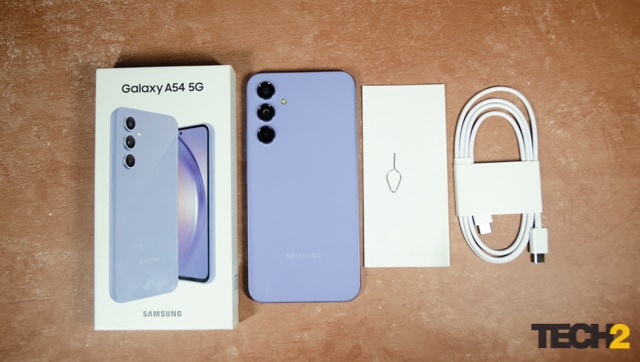 Needless to say, in terms of design, the Samsung Galaxy 54 5G is as premium-looking as a Samsung smartphone of this generation can get. Just like the Galaxy A34 5G, it is the materials used in the device's manufacturing that tell you it is actually a mid-level smartphone.
Our test device was a lovely looking violet-coloured one. As opposed to the Galaxy A34 5G and the S23 series, the rear panel of the Galaxy A54 5G has a glass panel with a glossy finish, which gives it a premium and stylish look in its own way.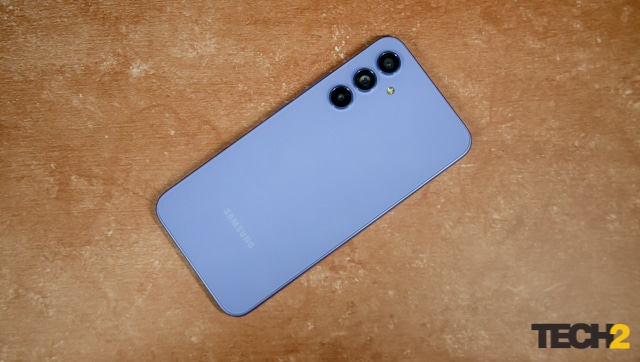 However, as premium as the glass rear panel looks, it is very susceptible to fingerprints and grease marks. And because it is a glass panel, you will have to use the device with a case.
Other than the violet colour, which Samsung is calling Awesome Violet you to get to choose from two more colours – Awesome Lime and Awesome Graphite. We reckon our Awesome Violet unit is the best-looking colourway for this smartphone.
On the front of the display, we get to see a 6.4-inch Super AMOLED panel, which is protected by Corning Gorilla Glass 5. As opposed to the Galaxy A34 5G, this display has a centred punch-hole cutout that houses the front-facing camera. The hole-punch cutout gives the device a premium-looking feel even from the front, which is something that the Galaxy A34 5G sorely lacks.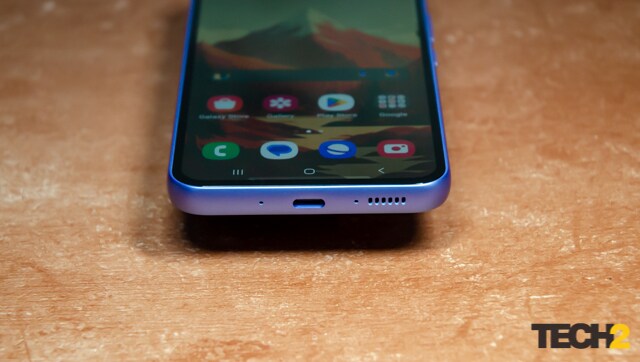 The device has some bezels, but they are very thin. Also, they look equally proportioned across all the sides of the device, and the chin does not stand out in any way.
The layout of the buttons, SIM tray, mic holes is similar to that of the A34 5G. The power button and volume rockers are located on the right side of the smartphone. There are no buttons on the left. A microphone and a SIM card slot are located on the top. Just like the Galaxy A34 5G, you can either use a microSDXC card in this slot or add a second SIM card.
At the bottom, we see a speaker grille that houses one of the speakers, as well as the USB Type-C port and another mic.
The three rear cameras are arranged linearly towards the back, together with the LED flash. The fact that there isn't a casing around the camera per se gives the device a luxury, minimalistic look that is only emphasised by the metal deco rings surrounding each camera. This enhances the device's premium appearance.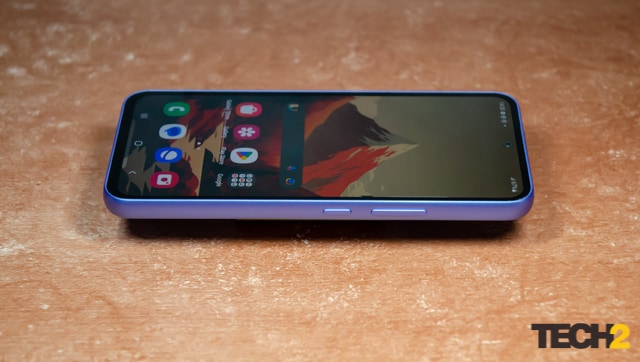 Both the front and back panels are flat, but the railing, which is made of plastic, is slightly curved, making the smartphone very easy and comfortable to grip. Also, this gives the Galaxy A54 a sturdy and well-built feel. Like the Galaxy A34, the Galaxy A54 also comes with an IP rating of 67.
Samsung Galaxy A54 5G review: The display
The Galaxy A54 5G has one of the best displays in this price segment. The display actually ticks most of the boxes that a user might expect from a more premium, almost flagship-level device.
The display is 6.4 inches in size, Full HD+ Super AMOLED panel, with a refresh rate of 120 hertz and a maximum brightness of 1000 nits. As for the resolution, we get a panel with a 1080 x 2340 pixel resolution set in a 19.5:9 aspect ratio.
The display is just like any classic premium Samsung display, that is in some of the company's top-tier premium smartphones; it is colourful, sharp, and a joy to look at. The colour reproduction is fantastic and vibrant, which is quite aesthetically pleasing. The blacks do get pretty dark, even though they may not be as intense as some of the other premium display panels used in higher-end Samsung devices. Both, games and the content are razor-sharp.
The punch-hole is tiny and far less obtrusive than the teardrop notch on the Galaxy A34. Overall, the A54's display is as reliable as it gets for a smartphone at this price point, and perhaps better than some of the other devices that cost considerably more.
Samsung Galaxy A54 5G review: The camera
The Samsung Galaxy A54 5G has three cameras on the back and one on the front. The main camera has a 50MP sensor and an f1.8 lens, as well as a much better, wider, and enhanced OIS and VDIS.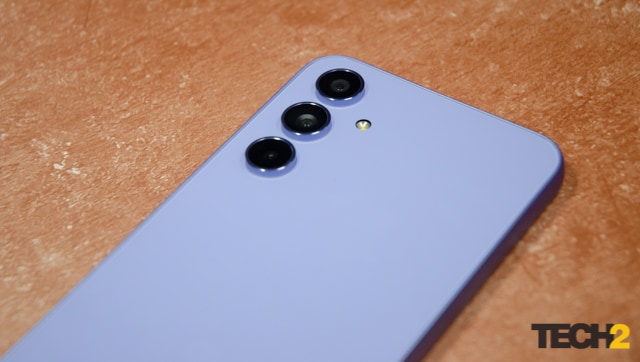 Following that is an ultrawide 12MP camera with an f2.2 lens, followed by a 5MP macro camera with an f2.4 lens. At the front, there is a 32MP selfie camera that performs admirably.
Daylight shots from the 50MP sensor are pretty amazing, and the camera captures a good amount of detail, creates well-exposed photos with good dynamic range and detailing, and dynamic range can be improved further by enabling HDR mode from the settings, which automatically turns on HDR when needed. The 12MP camera's ultra-wide shots are also good, especially in daylight.
The images taken at night were also quite good. Yes, there were some indications of Samsung's software at work, but it wasn't overly aggressive or off-putting.
The attention to detail in the selfies is also quite impressive. The images are occasionally oversharpened, but this does not appear to be a problem. The skin tones are accurate. The front-facing camera has a habit of slightly overexposing the face as is the case with all Samsung smartphones. The portrait mode also works pretty well and does a pretty good job with edge detection.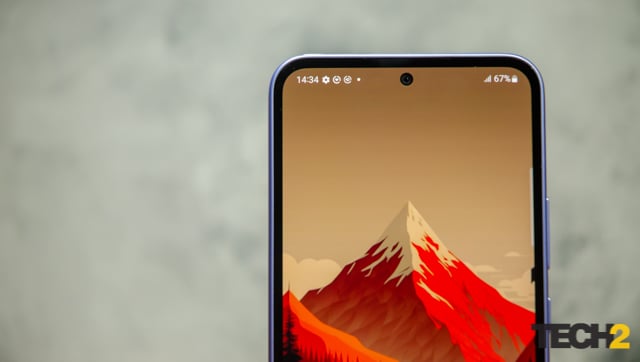 The Galaxy A54 can record videos in 4K at 30 fps on its front, rear and ultra-wide cameras. The rear camera can also shoot 1080p 60fps videos. Normal stabilisation works with both the ultra-wide and main cameras, but only the main camera has improved OIS. VDIS (video digital image stabilisation) has also been improved. There is a separate Super Steady mode that captures video in 1080p 30fps using the ultra-wide camera, which makes things very smooth.
Check out a few unedited shots from the Galaxy A54 here.
Samsung Galaxy A54 5G review: The performance, software experience and UI
The Galaxy A54 5G is powered by Samsung's own Exynos 1380 SoC which is based on the 5nm node. Along with that you get a Mali-G68 GPU. Now, although the device is pretty smooth in day-to-day life, it does tend to get a little warm to the touch under sustained heavy tasks such as gaming. With that being said, it doesn't break a sweat in regular day-to-day tasks. Juggling between apps and multitasking feels buttery smooth.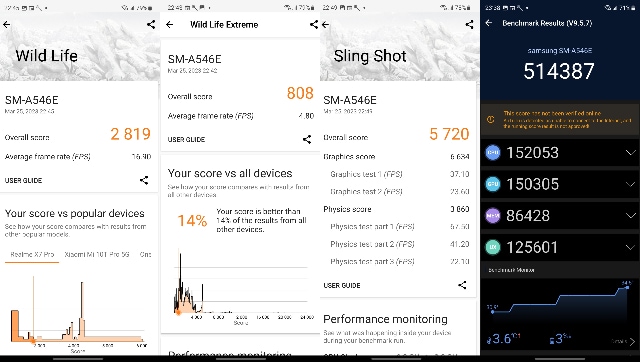 Our device had 256 GB of internal UFS 2.2 storage and 8GB of LPDDR5X RAM, which can be virtually expanded by another 8GB thanks to Samsung's RAM Plus. You also have a dedicated microSDXC slot that can accommodate cards up to 1TB.
The A54 performs well in benchmark tests, and it performed pretty well in our daily usage. While the device handles multitasking pretty well, it does have some issues when it comes to gaming.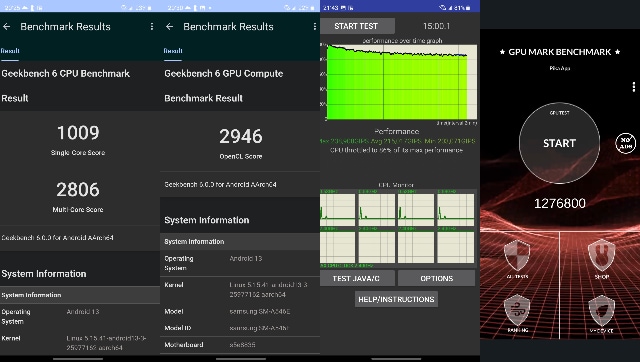 The device handled games like Asphalt 9 and Call of Duty Mobile very easily. We were able to play these games at the medium settings and were consistently getting 60fps. However, after about half an hour, the device became considerably warm, but not to an alarming level.
The Samsung Galaxy A54 comes with OneUI 5 operating system, which is based on Android 13. This is great because you get Android 13 right out of the box. Despite being a mid-range smartphone, the Galaxy A54 includes some of the best features available in Samsung's One UI. Among these are AI-based Photo Remaster, which allows you to remove shadows and reflections from photos, improvements to the dynamic weather widget, Smart suggestions widget, and much more.
There is some bloatware, including some from Samsung's app ecosystem. What is truly heinous, however, is Samsung's Galaxy Widget, which displays advertisements for a variety of things. Yes, it can be disabled, but given the cost of the device, we believe this was excessive, especially when it already has Glance. For any device that costs over 35,000, this is going to be annoying. 
For connectivity, the Samsung Galaxy A54 has WiFi, Bluetooth 5.3, and a USB Type-C 2.0 port. Because of Dolby Atmos, the device's pair of stereo speakers can get very loud while remaining balanced and clear, with no distortions.
Samsung Galaxy A54 5G review: The battery life
The Galaxy A54 5G has a 5,000mAh battery with 25W charging support, and no, Samsung didn't include a charger, so you'll have to buy one or use one you already have at home. The good thing though, is that the A54 5G is very efficient in managing its battery, which can easily last you a day, even if you're a hardcore and demanding user.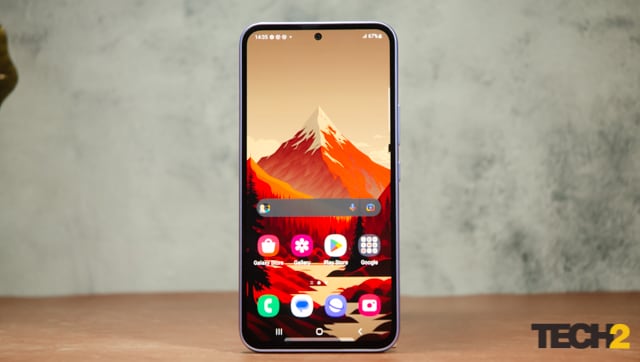 At 70 per cent brightness, you can easily get more than 9-10 hours of screen time and more than 20 hours of usage time. Our regular usage comprised watching videos, accessing the internet, playing a few games, checking emails, holding office conference calls, etc. 
We wish Samsung works on their fast charging for the more budget segment of their lineup. 25W charging just doesn't cut it anymore. Usually, it took us over 2 hours to get the device charged from zero per cent to 100, using a 65W third-party charging brick. When using an official 25W Samsung charging brick, the charging time gets cut down significantly. However, we reckon not many people would have a 25W charging brick from Samsung lying around. 
Samsung Galaxy A54 5G review: The verdict
The Samsung Galaxy A54 5G is a pretty solid smartphone that lives up to what it promises to be – a solid mid-level device that has an awesome set of cameras and performs well. And even though the Exynos SoC may seem out of place for a smartphone at this price point, it stands up to get the job done rather well.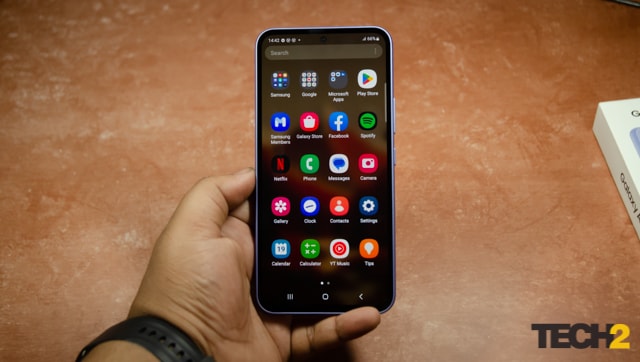 What becomes an issue, however, is that Samsung has a lot of competition at this price point, most of which are solid performers and offer slightly better specs at least on paper. We are of course talking about devices from Nothing, Google, and OnePlus. 
Where Samsung beats all of them is the surety of a reliable after-sales service that is very difficult to beat and the fact that Samsung has guaranteed that they will be giving four major Android updates and 5 years of security updates. 
Then, there is also the fact that Samsung's OneUI 5 is a clear favourite among users mainly because it has a healthy set of features and the fact that Samsung takes the security of its user's data very seriously. 
At Rs 40,999, the Galaxy A54 seems a bit overpriced at first. However, there are areas where the premium that you're paying for the device seems justified. Having said that, had the Galaxy A54 been priced a little more competitively, had it not walked straight into the territory of some of its current competitors, it would have been a lot easier to recommend the device, no questions asked. Still, the Galaxy A54 manages to be a pretty solid choice for anyone who is looking for a capable device that looks and feels premium.