The city of Quito is the capital of Ecuador, with wonderful landscapes, surrounded by the Andes Mountain range, home of some of the most historic events not only in Ecuador but also of all South America, cradle of brave men and women. Known as ¨Luz de America¨ it received this name because it was in this brave city where the first shout of independence was given on the 10th of August 1809, the first city in Latin America to make this milestone and thus inspire the whole continent. A destination that always attracts visitors from all over the world, Quito has the perfect combination of tradition and contemporaneity when it comes to its architecture, its richness in culture and its people. If it is not in your bucket list, we bet that by the end of reading this blog it will be. So, allow us to share with you 7 reasons why you should come visit the beautiful city of Quito, Ecuador:
1. Its majestic historic center; the best in Latin America?
The city of Quito is home to one of the most beautiful and well-preserved historical centers in the world. The Plaza Grande, which was the city's first square, is surrounded by the grand Cathedral, the Carondelet Palace, the Archbishop's Palace, and the Municipal Palace – making it a popular destination for tourists and locals alike. It was no surprise when the UNESCO, In 1978, declared Quito's historical center a World Heritage Site – and it's easy to see why. With 24 churches, 16 squares, 11 theatres, and 17 museums – there's something for everyone to enjoy in this unique city that still retains its colonial and republican style. Talking about the Historic Centre, Quito's downtown area is a popular tourist destination, attracting approximately 500,000 non-resident tourists each year because of its preserved design, architecture, and overall aesthetic of the city that makes it such a pandora box, full of surprises. Other popular tourist destinations in Quito include La Ronda, San Marcos neighborhood and Gabriel García Moreno Street, also known as the ¨street of the seven crosses¨.  
In fact, La Ronda and San Marcos are some of the most beautiful neighborhoods in Quito because of the fact that they are both full of color, full of hideouts, and places that need and should be discovered and experienced by everyone. In addition to this, religious temples are also important tourist attractions in the Historic Centre, for example, the churches of San Francisco, Santo Domingo, San Agustín, La Compañía and del Carmen Alto, among other. All these churches have history, and many of them have their own urban legend that makes them even more interesting. Not only to cherish and value the religious importance of the church, but because of the actual value that learning about the history of said church gives it that extra added value that all destinations need. Have you heard about any of them?
2. Middle of the World; a truly special destination.
Did you know that that the first monument commemorating the line that divides the world into two halves was built in 1936 by Luis Tufiño, an Ecuadorian geographer, it was around 30 feet high or 10 meters high. It honored the 200th anniversary of the arrival of the first French Geodesic Mission. In 1979, the current iconic half-of-the-world monument was built, and two years later the construction of the city of the Middle of the World began with the idea that it should be a representation of a typical Spanish colonial-style village, almost 700,000 stones were used to build small wooden houses with tile roofs. On 1 May 1992, it opened its doors to world tourism, with the aim of creating a space where tourists could come to enjoy the local gastronomy, culture, and handicrafts.
Nowaday it is one of the most iconic places in Ecuador, making it a must-see and included in any travel program to Ecuador, you can't leave Quito without a photo with one foot on the north side and the other on the south. Truth be told, this destination does not only represent the actual middle of the world where latitude lies at 0 degrees, but it is this exact geography that makes it an interactive and learning experience. By going there, you will be able to defy your knowledge about geography and be amazed by nature's beauty, as you will have the option to stand an egg on top of a nail, try to walk on a straight line, and failing at it, and many other activities that can captivate everyone.
3. The cable car and its wonderful view of the city
Located in the north of the city, the first and only cable car in Quito was inaugurated in 2005. The Quito cable car has become an important attraction. The reason? Simple, by being located at a very high altitude, in the middle of the Andes and surrounded by volcanoes and mountains, the viewpoint from the top of the cable car allows you to, enjoy a stunning panorama of the city as well as some of the snow-capped peaks in the distance, such as Cayambe and Cotopaxi. If you would like more action or a bit more adventure, then you can go one step further and take a trekking trail to Rucu Pichincha, a volcano that's part of the ¨Macizo de los Pichinchas¨, a group of hills and volcanoes that border Quito. If you would like to enjoy the view, then you can easily and calmly stay at the viewpoint, there are swings where you can climb onto to experience and the sensation of flight – don't worry, all of these activities are 100% safe. There is also a chapel called the Ermita de la Dolorosa that can be visited, as well as a small shopping center with a few stalls to eat and buy souvenirs.
4. Virgen del Panecillo; a unique destination in the world
Located on a small hilltop in the heart of the city, it was given the name of ¨Panecillo¨ because of its resemblance to a small loaf of bread. By being located at the top of the hill, when being there, you would be 3000 meters above sea level. Now, if we talk about history, in 1975 the Spaniard Agustín de la Herrán Matorras designed and built the statue of the virgin., The statue is so magnificent and cherished by locals because of its complexity in its design and its well-built architecture. The virgin statue is composed of 7400 unified pieces of aluminium, and it is estimated to weigh 124,000 kilos. The crown around the virgin's head is made up of, 12 stars that represent the twelve apostles that followed Jesus. All the pieces were made in Spain and then brought by boat to be assembled in Ecuador, clearly showing the importance that this statue had in the city. If you decide to visit this statue, tourists can climb to the lookout point inside the statue reaching 3027 meters above sea level and can visit the museum inside where they will see images of the construction process, being able to enjoy a wonderful 360-degree view of the whole city. In addition, visitors can have lunch or dinner at the ¨PIM'S DEL PANECILLO¨, a true gastronomic experience accompanied by a unique view.
Let's not forget an opportunity not to be missed, which is to visit the ¨Olla del Panecillo¨ a fort built in 1813 which was built to store water for the troops and horses during the battles against the Spanish army for the independence of the city, this place was considered an excellent military point. Undoubtedly, by the time you leave the Panecillo, your camera roll should be filled with pictures of this place, don't forget to bring a jacket if you decide to visit this destination as it might get a bit windy, after all, you will be at 3200 meters above sea level.
5. Hunger? Enjoy a unique and typical meal
When visiting Quito, you're in for a real culinary treat! The capital city of Quito is renowned for its excellent cuisine, so be sure to bring a notebook with you to jot down all of the traditional recipes you'll want to take home with you. Ecuadorian food is gaining more and more fame around the world and you must surely experience it to understand why. In fact, last year Ecuador joined had many restaurants joining for the first time the 50 best restaurants in Latin America list.
To put it into perspective and if you are wondering what Ecuadorian food tastes like, we can tell you that is the perfect combination of savoury and sweet. Traditional dishes are also quite healthy and balanced, with authentic ingredients shining and being the star of the dish such as potatoes, plantain, shrimps, and many ingredients that make Ecuador so rich. You'll find a variety of delicious dishes, so come hungry and enjoy the incredible gastronomic experience that Quito has to offer! What kind of food will you find at ¨La Carita de Dios¨?
¨Fritada¨ pork meat fried in oil, potato tortillas, mote, cooked corn, onions, tanned tomato, fried ripe plantain, cooked beans and mellocos. It is usually accompanied by a delicious cold lemonade.
¨Hornado¨ is pork cooked in a wood-fired oven, accompanied by potato ¨tortillas¨ and a delicious ¨agridulce¨ (a savoury-sweet onion and tomato).
¨Empanadas¨, a typical recipe made with corn dough, ideal as a snack or main dish. Enjoy two options ¨Empanadas de viento¨ and ¨Empanadas de morocho¨. The first option filled with cheese and the second option filled with a typical grain of the Andean region (morocho). Both are ideal at any time of the day and are usually served with the traditional ¨aji de chocho¨. Imagine these delicacies accompanied by a delicious fresh filtered coffee while you are in a café near the ¨Plaza Grande¨.
¨Yahuarlocro¨, a thick soup. Yahuar means blood and locro means blood stew. It is a combination of thick potatoes with some offal: belly, liver and lungs of lamb. You can serve it with avocado, onion-tomato and lamb's blood. A real delicacy. Would you eat it?
¨Canelazo¨, a 100% Quito drink, ideal to combat the cold while you're at the city's high altitude, a symbol of Quito's festivities celebrated on December 6th. It's a hot drink made with natural orange juice, cinnamon, brown sugar and a little bit of a national alcoholic beverage, you'll find it in most cafés and restaurants in the city.
6. Urban legends; let your imagination fly
Several urban legends have been passed down from generation to generation in Quito, allowing listeners to use their imagination to picture the legends with many details. There is no kid in Ecuador that has not been to Quito and not heard at least one legend of the historic center that took you back to a literary, poetic and mysterious adventure in your mind that connected a myth with reality.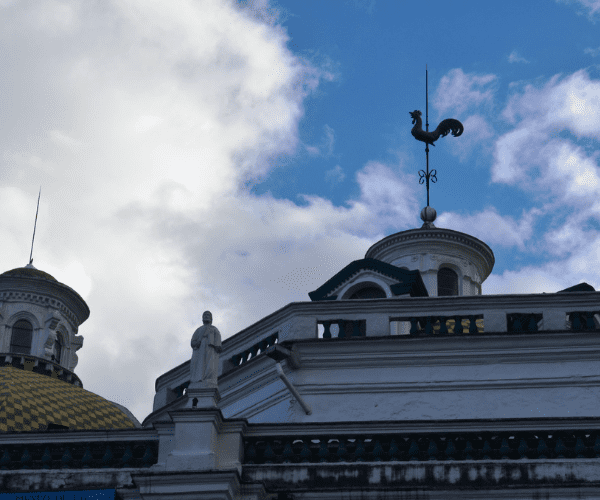 This creates a special mysticism when visiting the key landmark that are part of these stories. Visit the San Francisco church, where the famous ¨Legend of Cantuña¨ originated. The story goes that this indigenous worker was contracted by the Franciscan fathers to build the church in a period of 6 months, when he saw that time was running out he went to the devil himself to make a pact to fulfil the commitment or  ¨Cathedral Cockerel¨ and imagine how he came down angry from the top of the church to challenge Don Ramon to stop making fun of him who in his drunken state felt so afraid that he never behaved incorrectly again, or more legends like the one of ¨ El Padre Almeida¨ and how he lived such a real and shocking experience that changed him forever or the legend of ¨ La Casa 1028¨. We don't want to spoil the surprises of these legends, but if you're not familiar with them, leave a comment at the end of the blog and we'll tell you more about them.
7. Traditional games; are you up for playing?
Quito is known for always being a lively city, traditions and customs play a big part in bringing the city together by gathering families together to create a moment that will live forever as a memory in their hearts. You can see how children and adults play these games when you visit the city, traditions that have been taught from generation to generation, the perfect opportunity to share with family and friends. The city of Quito has several traditional games in its repertoire, the best known of which are:
¨Rayuela¨, the game consists of drawing with chalk a figure divided into squares on the ground. The players throw a stone and advance jumping on one foot through each square without stepping on the lines until they reach the end, crouch down without losing their balance, pick up the stone with one hand and return.
¨Canicas¨, consists of drawing a large circle on a base of earth as if it were a court, two or more people can play. The aim is to get the opponent's marble out of the circle. You will need strength and precision in your fingers as this is the only part of your body you can use.
¨Cuarenta¨, without a doubt one of the most popular games, it is played by children and older adults. A very original card game from the area, it is played by 4 people in two teams, each player will have 5 cards at the beginning, every time a player has the same card as the opponent, he/she will add 2 points, the objective is to reach a score of 40. In Quito's festivities you will find championships of this game everywhere.
We encourage you to play these fun games on your visit to the capital of Ecuador, practice will make you an expert and you will surely learn the rules to be invincible.
Now that you know what to do when you arrive in the city, as you can see you have many activities to do and places to visit, to make your experience completely amazing we give you 3 of the best options you will find in the city to stay.
Illa Experience Hotel
Undoubtedly one of the best options to live and enjoy Quito and its traditions, it opened its doors in 2017 as the first luxury hotel that focused on experiences in South America. It is a 17th century restored house. It is located in the heart of the historic center, in the San Marcos neighbourhood, a beautiful residential area where you can feel how family affection invades the houses. It is very close to the main tourist destinations in downtown Quito, guests are minutes away from:
The Plaza Grande
San Francisco Church
La Cathedral
La Ronda
La Compañia
ILLA EXPERIENCE brings the most representative traditions to its guests by, inviting local artisans, artists and entrepreneurs to the hotel to share their experiences and stories as well as giving practical classes to guests. Illa believes that the only way to experience luxury is by experiencing the destination that you are visiting to become one with the city and not just an outsider. It has 10 luxury rooms located on 3 floors, where guests will find the repristinating of the colonial, republican and contemporary periods. Of course, as any luxurious hotel, among its facilities, you will find a wonderful SPA with jacuzzi, a wine cellar, a terrace overlooking the Panecillo, reading room, gym with cardio machines, an ideal option for a moment of relaxation and tranquillity. Enjoy local experiences such as knitting toquilla straw hats, preparing local sweets, and learning the style of watercolor painting.
Casa Gangotena
Located in front of the San Francisco square in the historic center of Quito, it is a wonderful three-story property located very close to the iconic tourist destinations of the city, it has a total of 27 rooms, is an 18th-century house. In 1924 the Gangotena family decided to restore the house since years before a fire affected it greatly, in the early years of the 21st century it was sold to be converted into a Boutique Hotel to receive guests looking for an emblematic destination to stay. The hotel is adorned with fine antiques, including furniture, chandeliers, and works of art. Facilities include a reading room, garden, terrace with panoramic views, bar, social room, gourmet restaurant, and more. It also offers its facilities for corporate and social events, making it the perfect destination for lovers of luxury adventures.
---
IMPORTANT NOTICE:
If you are reading this article anywhere other than on A Luxury Travel Blog, then the chances are that this content has been stolen without permission.
Please make a note of the web address above and contact A Luxury Travel Blog to advise them of this issue.
Thank you for your help in combatting content theft.
---
Hotel Plaza Grande
Located in front of the Plaza Grande, after several renovations the hotel opened its doors at the beginning of the 21st century, having a total of 15 rooms furnished with the finest details. It is said to be the first house built in the 16th century during the founding of the city. Known for being the first luxury hotel in Quito, its location is ideal for guests aiming to visit iconic sites such as:
Cathedral Church
San Francisco Church
La Compañía
La Ronda
Government Palace
Four types of suites are available to guests: Royal Back, Royal Front, Plaza View, and Presidential. The hotel has a colonial architectural design and its facilities include a spa and wellness center. It is renowned for organizing moonlit horse-drawn carriage rides through the city, a truly romantic experience.
Marcel Perkins is CEO at Latin Trails. Latin Trails is an incoming destination management company specialized in bespoke tours, with a focus on offering unique experiences throughout Ecuador, the Galapagos Islands, and Peru.
If you would like to be a guest blogger on A Luxury Travel Blog in order to raise your profile, please contact us.