Over the last decade that I've been visiting Europe, I've had the pleasure of visiting Paris, Brussels and Amsterdam on numerous occasions, even studying abroad in Amsterdam for five months. And finally in fall 2022, Colin and I visited all three together and I realized Paris, Brussels and Amsterdam makes the perfect week in Europe!
Not only are all three of these cities easily and quickly connected by train, they also offer so much to see and do from museums and boat rides to parks and famous monuments. Plus, each of these cities offers unique languages, cuisines and styles so you'll feel like you're visiting three distinct places.
If you have a week in Europe and are looking to hit some of the best cities on the continent, check out this itinerary! 
Disclosure: Some of the links below are affiliate links, meaning if you click through and make a purchase, I will earn a small commission at no additional cost to you. Thanks for your support! And thanks to Visit Brussels for supporting my trip to their city. 
Paris, Brussels & Amsterdam itinerary FAQs
How many days do you need for Amsterdam, Brussels and Paris?
As you may have guessed from the title of this post, you can visit Amsterdam, Brussels and Paris in a week. They're all very close to one another and if you want a fast-paced 7 days in Europe, this is a good way to spend them.
However, if you have more time, I'd recommend it. With 10-14 days, you can slow down and explore each of these cities more in-depth. You would also have time for day trips or to add another city to your itinerary.
When should you visit Paris, Brussels and Amsterdam?
Spring would be the best time to visit Paris, Brussels and Amsterdam. The weather is nice and you can avoid the heavy crowds of summer. Plus, you'll be able to catch the cities in bloom and exciting holidays, like King's Day in Amsterdam.
Autumn is also a great time to visit – the leaves are changing, the weather is still usually nice and, again, the crowds aren't as bad as they would be in summer.
Summer in Paris, Brussels and Amsterdam will be packed and warm. And winter can be cold. But if those are the only times you can visit, it's still worth the trip!
Find out more: 12 Things to Know Before Visiting Amsterdam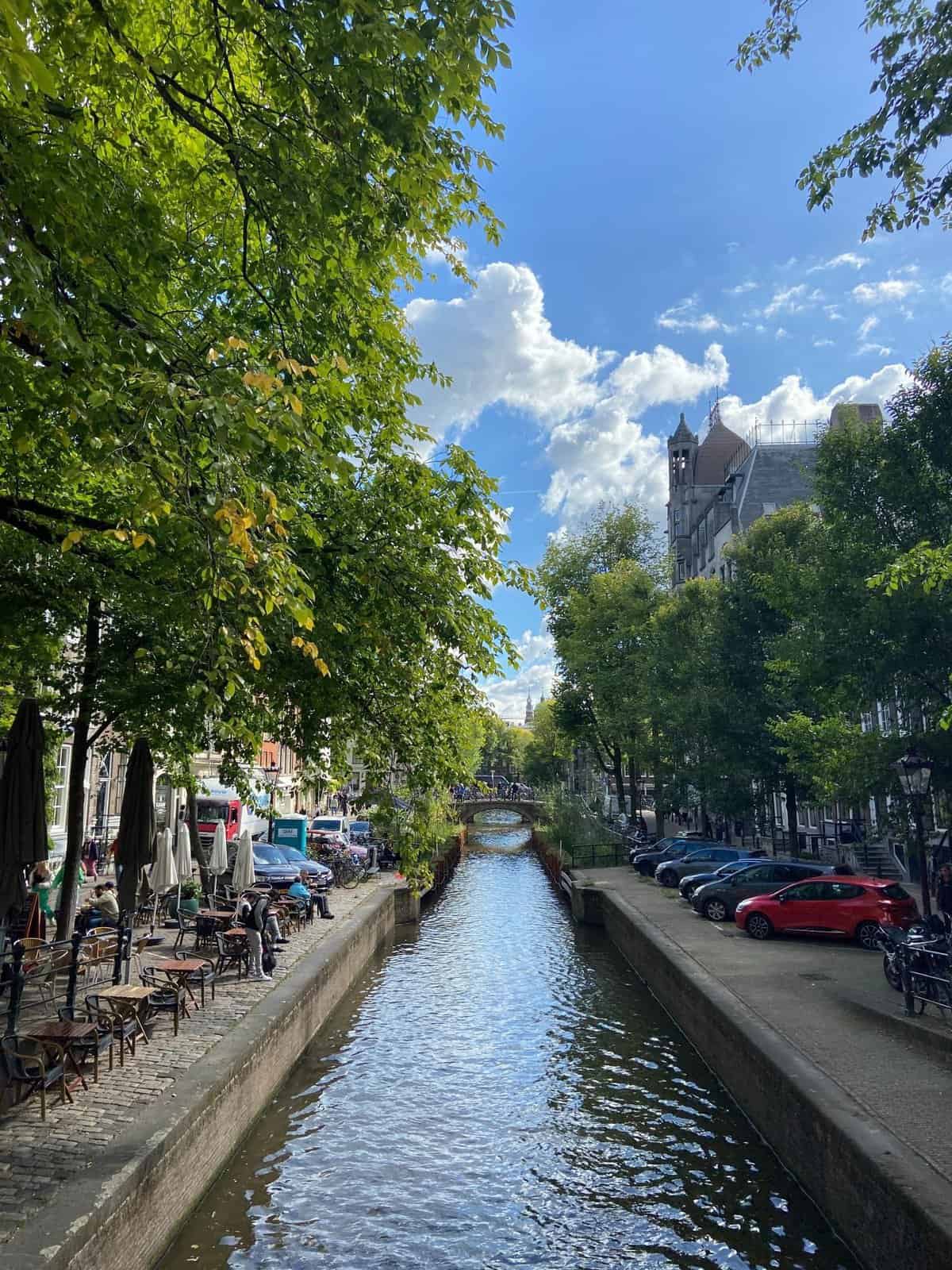 How to train from Paris to Brussels or Paris to Amsterdam
It's very easy to take the train from Paris to Brussels or Paris to Amsterdam. Thalys trains connect Paris and Brussels directly in less than 90 minutes. The fastest direct train from Paris to Amsterdam takes three hours.
Train tickets can be bought in advance through Trainline or directly through the national train services. Though I always recommend checking Seat 61 first for the best train advice in Europe!
Can you bus from Paris to Brussels?
Yes, you can bus from Paris to Brussels in about four hours. While the bus takes longer than the train (4 hours vs 90 minutes), it is usually cheaper, especially if you're booking last minute.
How to train from Amsterdam to Brussels
The fastest direct train from Amsterdam to Brussels takes two hours on the Eurostar. Like the Paris routes, tickets can be bought through Trainline or directly with the train service. I always recommend booking in advance to get the lowest fare!
7 Day Paris, Brussels & Amsterdam Itinerary
Day 1: Paris icons & Montmartre
Beat jet lag by spending your first day in Paris walking past some of the city's top sights: spot or climb up the Arc de Triomphe, stroll down the Champs-Élysées, wander over the Pont Alexandre III bridge, and end in front of the Eiffel Tower in time for a picnic on the lawn.
In the afternoon, take a bus out to the Montmartre neighbourhood where you can marvel at Sacré-Coeur and enjoy the bohemian vibe. In the evening, you may want to splurge on a show at Moulin Rouge (or at least take your photo in front of the iconic windmill!).
Where to stay in Paris: On our most recent trip to Paris, we stayed at OKKO Hotels and I highly recommend it. The hotel was incredibly stylish, modern and clean while not being too expensive. Most importantly, it was located just a few minutes from the train station, which is helpful if you're getting to and from Paris by train.
And as a bonus, it's just around the corner from my favourite Italian restaurant and favourite bakery in Paris!
Day 2: Paris museums & parks
On day 2 in Paris, head to the Louvre before the crowds and get your fill of art history, plus the must-take selfie with Mona Lisa. Once you've seen as much art as you can handle, enjoy a walk along the Seine admiring the Notre-Dame Cathedral and Sainte-Chapelle, before popping into Shakespeare and Company to browse for books.
Get your skip-the-line Louvre tickets here!
Enjoy a picnic lunch in Jardin du Luxembourg before wandering the Latin Quarter. If you want to spend more time strolling and shopping, add the famous Marais district to your Paris itinerary. Or if you're craving more art, don't miss Musee D'Orsay.
For more, check out my 2 days in Paris itinerary! 
Where to stay in Paris: OKKO Hotels
Day 3: Brussels statues & comics
On day 3, you'll walk or transit from your Paris hotel to Gare du Nord station and take the train to Brussels Midi, the main train station in Brussels. In just 90 minutes, you'll be in the capital of the EU!
Dedicate your first day in Brussels to the city's mascot, Manneken Pis! Check out his statue over the fountain, visit his impressive wardrobe collection, and learn all about his history at the Brussels City Museum.
Visit all of the top sights in Brussels with the Brussels City Card!
After a lunch break of fries and beer (you have to in Brussels!), lean into Brussels' other hobby: comics! Check out the Comic Arts Museum, where TinTin and the Smurfs reside, or see action figures at MOOF. If the weather is nice, stroll through Brussels Park and admire the Royal Palace.
Where to stay in Brussels: While in Brussels last fall, we stayed at Mercure Hotel and I highly recommend it. Rooms were spacious, clean and affordable, plus the breakfast buffet was great! And of course, it was just steps from the train station making travel to/from Brussels, and any day trips, super convenient.
Day 4: Brussels, the EU capital
On your second day in Brussels, embrace the city's prominence in the European Union. A little outside of the centre, you can visit Mini-Europe, an open-air museum displaying over 350 monuments from the EU at 1/25th their actual size. If you didn't get a good selfie with the Eiffel Tower in Paris, now's your chance!
Head next door to the Atomium to gawk at the structure from below and take in the views from up high. Back in the city, visit the EU Parlamentarium, a free and very interactive museum all about the history and workings of the EU. 
Of course, don't forget to enjoy lots of Belgian chocolates while in Brussels!
Don't miss: If it's raining in Brussels, check out my list of rain-proof itinerary ideas!
Where to stay in Brussels: Mercure Hotel
Day 5: Amsterdam city walks
From Brussels, you're off to Amsterdam on a two hour direct Eurostar train, leaving from Brussels Midi and arriving at Amsterdam Centraal. I may be a bit biased because I studied abroad in Amsterdam, but I love this city!
Start your exploration with a walking tour – many companies offer free walking tours from the city centre (a short walk from the train station). You'll explore Dam Square, the Red Light District, and have a chance to check out the Royal Palace. End your first day in Amsterdam at one of the city's rooftop bars!
Where to stay in Amsterdam: I've visited Amsterdam twice in the last few months and have two awesome accommodation recommendations for you.
If you're looking for an extremely memorable stay in Amsterdam, check out SWEETS Hotel where you can stay in an iconic bridge house right on the canals. They have converted bridge houses all over Amsterdam so you'll be sure your stay is unique with unbeatable views.  Don't miss my review of our SWEETS Hotel stay!
Or, if you're on a budget and want to be as close to the train station as possible, check out THIS HO(S)TEL cube hotel. Instead of a full-size room, you'll stay in a private cube, similar to a capsule hotel. But rather than a rowdy and dirty hostel, expect a surprisingly spacious room (for a cube!), clean and stylish shared bathrooms, and a very funky vibe to the whole place!
Day 6: Amsterdam's history and waterways
Stroll down the beautiful canal streets on your second day in Amsterdam until you find Winkel 43, the famous apple pie restaurant. Indulge and then head over to the Anne Frank House, a must-visit while in Amsterdam. I've been through the museum five times and am blown away each time.
Just out front of the house you can catch a canal boat tour to experience Amsterdam from the water. Once you've disembarked, head into The Pancake Bakery for a late lunch.
Spend the rest of your day exploring the Jordaan neighbourhood, shopping on the Nine Streets or popping into local museums like the Houseboat Museum or Cheese Museum.
PS: Only have 1 day in Amsterdam? Check out my 1 day in Amsterdam itinerary!
Where to stay in Amsterdam: SWEETS Hotel or THIS HO(S)TEL
Day 7: Amsterdam museums & parks
On your final day of the trip, head out to one (or more!) of Amsterdam's famous art museums. Check out Dutch art and history at the Rijksmuseum, modern art at Moco Museum or Van Gogh's best work at the Van Gogh Museum.
Once you're museum-ed out, grab picnic supplies at the nearby Albert Hejn grocery store and walk over to Vondel Park, Amsterdam's largest park. Enjoy an afternoon of people watching or head to the nearby Albert Cuyp Market for more shopping and eating.
In the evening, go for a traditional rijstaffel (rice table) dinner, an awesome blend of Indonesian and Dutch cuisines served in small plates. Full from dinner, you can spend your final night in Amsterdam before flying out (or taking the train to your departure city) the next day.
For more, check out my 3 day Amsterdam itinerary!
Where to stay in Amsterdam: SWEETS Hotel or THIS HO(S)TEL
3 itinerary alternatives
1) More time? How to spend 10 days in Paris, Brussels & Amsterdam
If you have 10 days in Paris, Brussels and Amsterdam, that's the perfect opportunity to add a few more things to your itinerary!
Many people will argue that just two days in Paris is not enough time, so you can definitely add another day to the City of Lights. Spend it shopping, visiting more museums or just people watching in fashionable Paris. You may also want to add on a popular Paris side trip, such as a day trip to Versailles or day trip to Mont Saint Michel.
Your extra days could also be spent on a day trip from Brussels. I'd highly recommend going on a day trip to Ghent and/or Bruges (there's so much to do in Ghent!) or to Antwerp.
2) Only have time for two? Check out my Paris and Amsterdam itinerary
If you have less time, or want to travel a little slower through these cities, you can definitely just visit Amsterdam and Paris during your week in Europe. These two cities pair well together, are connected in three hours by direct train, and both offer lots to see and do to fill a vacation.
Scroll through my Paris and Amsterdam itinerary for more inspiration! 
3) Want to add London? Plan a London, Paris, Brussels & Amsterdam itinerary
If you have even more time, why not add another of Europe's big cities (and my favourite city in the world) to your itinerary? London is a convenient add-on to this itinerary since it is also well connected to these cities by train. In fact, I took the Eurostar from London to Amsterdam in January 2023 and highly recommend it – it beats flying!
From London you can train directly to Brussels (2 hrs), Paris (2.5 hrs) or Amsterdam (4 hrs). Note that because the UK is no longer part of the EU, you'll need to arrive at the train station early to go through passport control. If you plan to visit all four cities, I'd recommend at least 10 days for your trip.
If you're visiting London, don't miss my 3 day London itinerary!
---
There you have it, a whirlwind 7 days through Paris, Brussels and Amsterdam! While all of these cities deserve more time, you can get a great taste of them on a week-long trip. Plus, it's just an excuse to come back and explore more on your next trip!
Have you been to Paris, Brussels or Amsterdam? What do you think of this 7 day itinerary? 
PS: Love this itinerary and plan to use it on your next trip to Europe? You can support this post and others like it by clicking the coffee icon in the bottom right corner. Thanks so much!